Creating XBee applications just got way easier. Gone are the days of toiling away for every inch of code. In order to make it as simple as possible for you to write applications that interact with XBee, we have created the XBee Java Library. This library supports ZigBee, 802.15.4, DigiMesh and Point-to-Multipoint XBee devices!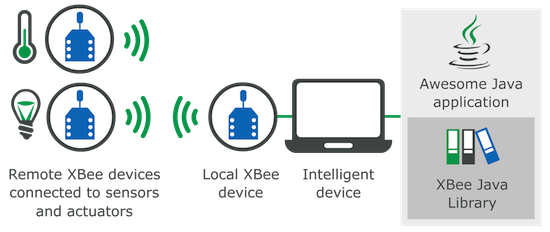 The project includes Java source code, unit tests for the library, and multiple examples that show how to use the available APIs. The examples are also available in source code format.
Here's a list of what's included in the library:
Configuration of local and remote XBee devices:

Configure common parameters with specific setters and getters.
Configure any other parameter with generic methods.
Execute AT commands.
Apply configuration changes.
Write configuration changes.
Reset the device.

Transmission of data to all the XBee devices on the network or to a specific device.
Reception of data from remote XBee devices:

Data polling.
Data reception callback.

Reception of network status changes related to the local XBee device.
IO lines management:

Configure IO lines.
Set IO line value.
Read IO line value.
Receive IO data samples from any remote XBee device on the network.
So whether you're designing an intelligent lighting application, completely automating your home, tracking your dog's activity level, or anything else you can dream up– you no longer have to start from scratch. Visit github.com/digidotcom for access to the library and more information.