Today, technology can help organizations achieve amazing things, especially Internet of Things (IoT) technology. Preventative maintenance, the elimination of machine downtime—it's all great. But, with all of the technology talk, we often forget that it's our job as business leaders to use technology to drive and scale human connectivity.
It's our business leaders' job to use technology to take our resources from good to great and from efficient to extraordinarily efficient, because data alone can only do so much. Data puts us in the position to evolve customer service, but real change also stems from your greatest assets: your employees. When we equip and empower employees to be successful at their jobs, they also become happier and more engaged. And while happiness may seem like a fluffy concept, it's a key driver of employee productivity. With U.S. businesses losing $450-$550 billion dollars a year due to active disengagement (Gallup 2013) happiness that creates engagement is no small win.
So now I have to ask: Have you thought about how the Internet of Things and employee engagement go hand-in-hand? If not, it's time to start. Here are three key ways IoT systems can better your business through employee engagement.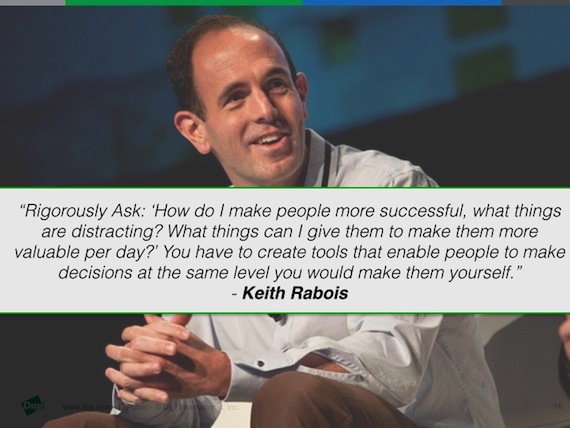 1. Empower employees with data.
Data that employees can utilize for customer services makes for better outcomes. Those better outcomes make for more encouraged and engaged employees.
Connected products create an opportunity for employees to know more when disgruntled customers call in about a problem, and they're equipped with more than just a transcript to help.
Employees who have greater insight can resolve issues faster and more frequently, leading to greater efficiencies and first-call resolutions– not to mention happier customers.
Access to real-time data can also help to surprise and delight customers. Just remember,  that surprise and delight will soon turn into an expectation. Better outcomes and surprise and delight aren't just great for customer service, but it makes employees feel more successful at their jobs too. Remember, passion and engagement comes from being empowered and enabled to be good at what you do.
2. Engaged employees act like owners.
When employees are empowered to make autonomous decisions, they feel (and act) like owners– giving managers an opportunity to level-up.
Access to actionable data gives front-line workers the information they need to take autonomous actions and experience emergent leadership. With more employees making real-time decisions, time spent in the "chain of command" decreases. Those on the front-lines feel more empowered, while managers and more strategic employees have more time for higher-level activities—a chain reaction that increases engagement levels throughout the organization.
Connected products also help organizations align employees to its mission and goals. By understanding the company's desired outcomes, employees can make decisions based on clearly-defined goals—not guesses.

One solution, Clean Hands Safe Hands (CHSH), empowers hospitals to use a set of company-wide metrics for hand hygiene compliance. With the CHSH system in place, staff badges are equipped with a sensor that tracks all hygiene events. Data analytics and reporting allow hospitals to benchmark performance, identify opportunities for coaching and praise, and share a dashboard of hospital compliance guidelines. This transparency helps create good habits and change behaviors. It can also lead to a reduction in healthcare associated infections by 40-70%. With that kind of reduction, a 200 bed hospital with the system installed can save up to $1M per year (CHSH 2015).
3. Connected products create opportunities for higher value employee contributions– from the front-lines up.
Today, over 80% of employees feel their skills aren't being put to full use (Lumesse 2011). Employees want to do more, but it's common for corporate technology investments to focus on improving the efficiency only of high cost knowledge workers. That's changing. Connected devices can empower workers at every level to perform their jobs with greater efficiency, productivity, and even safety. Front-line workers are becoming information workers. That's technology turning humans into extraordinary resources.
Organizations must give employees the systems and tools to make the most valuable contribution possible. When employees are able to solve customer problems they're more engaged with their work. Decentralized decision-making and a set shared metrics gives not only front-line workers, but everyone in the organization, the opportunity to level-up. And finally, employees want to do more, they want to make the most valuable impact possible, and it's your job to give them the tools to do so.
Keith Rabois, Partner at Khosla Ventures, puts it best, "It's your job to rigorously ask: 'how do I make people more successful? What things can I give them to make them more valuable per day?' You have to create tools that enable people to make decisions at the same level you would make them yourself."