This Year's Focus: The Rising Tide of Security Threats. Learn the Risks and How to Stay Ahead of the Threat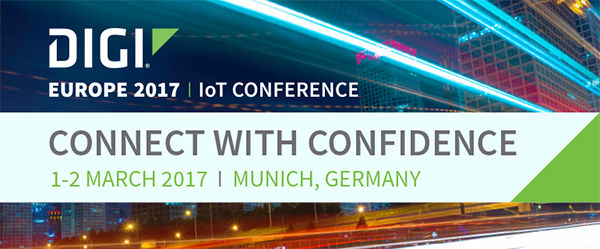 From medical devices, fitness trackers and smart thermostats to tank sensors, intelligent streetlights and water monitors, the Internet of Things is in more places than ever before. And by relying on wireless networks, hundreds of millions of IoT devices present an even greater "attack surface," making them frontline targets for competitors, hackers, disgruntled employees and other bad actors. Digi understands that security is one of the most critical concerns for engineers designing networks to support the growing number of connected IoT devices.
Digi knows security. In fact, we have securely connected millions of devices over the past decade. That's why this year's Connect with Confidence Conference takes a special look at security to help answer your questions about the kinds of threats that can disrupt your devices. We will give you the tools and knowledge to navigate security considerations before they become threats, so you can design the best-in-class IoT products and applications your organization deserves.
Still need a reason to head to Munich this March? We'll give you three:
1. Meet Product and Technical Experts
Meet engineers and Digi product leaders and get answers to the most-asked technical questions about embedded, RF, network and cellular technologies. Learn all about the latest Digi products, and discuss your specific technical requirements in detail.
2. Hear from Real Digi Customers
Why do customers choose Digi for the M2M applications that matter most to them? Learn how several industry-leading customers are using Digi products to solve real IoT business challenges in the Industrial arena.
3. Schedule 1:1 Meetings with Digi Leaders
Take advantage of this exclusive, invitation-only opportunity for you and your team to meet the Digi executive team, including our President and CEO, Chief Technical Officer and Chief Operating Officer. Engineers and product leaders from each business unit are also standing by to review the latest Digi offerings and evaluate where you'd like to take your next IoT project.
Bonus
Register now as a Preferred Digi Customer, and we'll waive the registration fee! Your admission and hospitality are all provided at no charge (travel and incidental costs not included) – courtesy Digi, your partner for the Internet of Getting Things Done.
Details
What: Digi Europe 2017 | IoT Conference
When: March 1-2, 2017
Where: Munich Airport Marriott Hotel
How: Register here