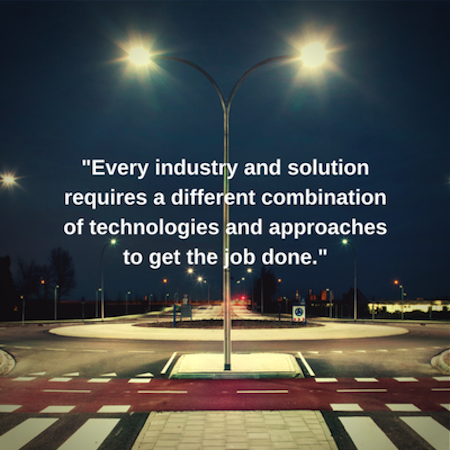 The article "Don't hold your breath for the industrial IoT platform" by Cormac Foster caused quite the buzz when it made its debut on Gigaom last month. With rebuttals from industry players like Mike Dolbec, managing director of Venture Capital GE Software, we took notice.
What stood out the most? Despite the tensions expressed in reader comments, we agree with Foster and thought that some of the best points of the piece were overlooked.
What others overlooked is that Foster isn't downplaying the role of the Industrial Internet of Things. He's simply pointing to its enormity.
"The industrial IoT will eventually eclipse consumer markets, in terms of both the number of connected devices and the volume and value of connections. But the market's potential is so large because it's not just one market."
We couldn't agree more. The Industrial IoT is a mega trend, and its economic value add will show that in time. It is not a single market, but rather a market of markets. For example, our business at Digi International spans over half a dozen different vertical industries and even more underlying applications and use cases.
Different solutions may require different hardware approaches, networking technologies, cloud data storage, reporting and security requirements. We've had to learn the different languages of proprietary machines–becoming 'machine linguists' in the process.
To approach this vast "megatrend" landscape requires a versatile toolkit of wireless and embedded technologies and software and integration services, because each customer use case and scenario has its own optimized solution.
In the industrial world, you build an IoT solution, you don't buy one. You might be able to go and buy a wearable at Best Buy or Target, but here in the Industrial IoT there's no one-size fits all standard today. Furthermore, a lot of new entrants in the supplier space offer one point solution or one point product. They have a single hammer, so everyone's problem is declared a nail. That's why their ability to deliver value to customers is limited.
Industrial Internet of Things solutions today are about creating a strategic competitive advantage for your business. If it were easy to do–if you could just buy one off the shelf and implement it–would it be a real advantage? For how long? As early adopters of IoT realize the business benefits of lower costs or the ability to deliver superior customer service, laggards will find themselves at a competitive disadvantage.
As I said before, every industry and solution requires a different combination of technologies and approaches to get the job done. A solution for a city looking to reduce their electricity bill using a smart street lighting system is completely different than a medical device maker who needs to bluetooth-enable products. The same goes for someone deploying precision agriculture equipment, or industrial fuel tanks.
For example, wireless mesh networking technology often powers smart street lighting IoT projects, which can reduce electricity costs that can account for a big chunk of a city's energy expenses. One of our customers' systems, which gives city crews a view into every light and its status via a web application, helps cities save up to 85 percent on energy costs. And, with reduced CO2 emissions, it also helps to protect the environment.
The Bottom Line: There's No Panacea or Single Standard today
Our IoT customer solutions span dozens of industries and hundreds of applications– each with different business goals and technology needs. So, yes, we have to agree with Foster. There's no one Industrial IoT platform. We wouldn't hold our breathe either. Internet of Things systems for commercial use are created with industry and application specifications in mind, as they should be. As Foster said, "the market's potential is so large because it's not just one market."
Interested in learning more about today's Industrial Internet of Things solutions? Here are a number of customers who are experiencing the benefits.