This guest blog post has been authored by Sakar Pudasaini, co-founder of Karkhana. Sakar founded Karkhana in 2012 after meeting co-founders Sunoj Shrestha, Pavitra Gautam, and Suresh Ghimire at a Google Developer Group Bar Camp. Since then, the company has been creating innovative ways for students to learn through experimentation, collaboration, and play in the classroom. Visit Karkhana's website to find out what's next!
When we decided to turn Yantra from just a robotics competition into an Art|Tech|Science festival we had no idea what such an event would involve. We knew our goal was to create an event that fostered learning by connecting our culture's values and traditions to new technology and artwork. So with that in mind, we set out to create a festival that featured art that the people of Nepal could relate to, while being fun to interact and play with. And, we are glad it ended up looking pretty cool! You can see for yourself in the video below:
Karkhana's teachers, all of whom are tinkerers, had worked on lots of geeky projects but we had no experience creating art. What we needed was to identify the right collaborators. When we were put in touch with Artree Nepal, we found exactly what we were looking for. A team of visual artists – sculptors, painters, printmakers and animators – they were genuinely curious about how they could bring more interactivity into their work.
As the Artree and Karkhana teams began to talk we found a connection around the idea that we could dig into our cultural heritage for inspiration. Could we take an object familiar to millions of Nepalis and reinterpret it someway? Can we help younger people rediscover the brilliance of things they discounted as not-modern by infusing technology? Could we make 'high tech' seem less daunting for the older folks by using the familiar? After a bit of conversation we did a little brainstorm and came up with a bunch of ideas.
Several ideas were appealing but none had the simple elegance and strong emotional appeal of the mane (prayer wheel). Not only is the mane a familiar sight in many stupas, monasteries and shrines around the country, it is also fun to play with. Each of us present at the brainstorming session had a fond memory of playing with the giant mane at the Swayambhunath stupa as kids. So we went off to do some field observations…
So now we had the device and the interaction, but we needed the narrative. What story did we want to tell? The story mattered even more because of the nature of the prayer wheel. The traditional mane has a mantra carved into it (and hundreds of mantras inside). It is believed that when the mane completes a revolution the net effect is equal to having said each of those mantras once. We needed to come up with not just a story, but also a mantra, we believed in enough and wanted others 'say'.
It did not take long to realize that all the collaborators believed in learning by playing and exploring. So the mane would tell a story of kids learning while doing fun stuff like running experiments, chasing butterflies, and making things. The video below shows you the end result. The mane is a combination of plastic and copper, of modern materials and older metalwork techniques.

We have also repurposed the mane as a user-interface that controls animation. Each of the copper reliefs has a corresponding animated story that plays when you turn the mane. If you turn it fast, the animation moves fast. When you slow it down, the animation slows.
And when you spin the mane backwards, you see the story in reverse
.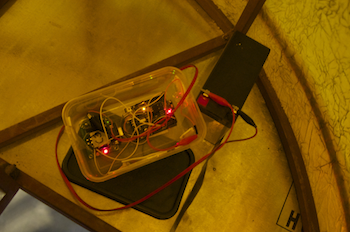 Ok. Now for the geeky stuff. To make it work we used an accelerometer/gyro sensor, an Arduino, two XBee radios and bit of code in Processing. The whole set up inside the prayer wheel was encapsulated inside a incredibly sophisticated casing i.e. a cheap tupperware box  ;-)
The Artree team drew the characters and the different settings for each story. Mekh Limbu, the lead animator, then took photos of the different settings and moved the characters to perform various actions accordingly. His team then used the different photo frames to make the animation using Adobe Flash. We then extracted the different frames from the animation and placed them into different folders. Then we used Processing to load the image sequences once the XBee (connected to the laptop) received serial data from the XBee transmitter (inside the mane).
You can find all the code at: https://github.com/dipeshwor/yantraMane