As a leading supplier of communications solutions for POS, kiosk, banking, and ATM markets for three decades, Digi knows the criticality of safeguarding credit and debit card transactions.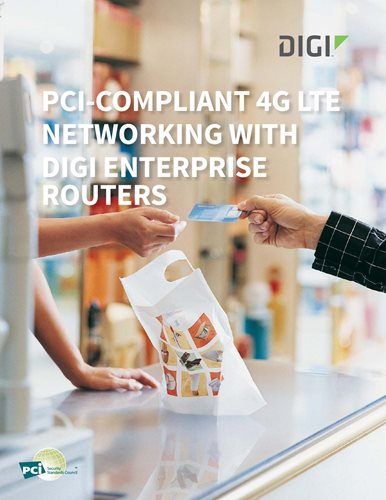 Still, confusion on how to meet the Payment Card Industry (PCI) Data Security Standards (DSS) remains. For example, for the most part, there are no specific PCI certifications for network devices. This begs the question: what is PCI compliance and how is it achieved?
To find the answers, Digi offers the PCI-Compliant 4G LTE Networking with Digi Enterprise Routers white paper. This paper demystifies PCI certification and addresses meeting compliance with the Digi TransPort® family of 4G LTE routers. It presents an overview of PCI-DSS and the standard's 12 key technical and operational requirements that merchants, processors, and service providers must satisfy.
It then introduces Digi TransPort 4G LTE Routers and how they comply with all 12 requirements, making them the world's most secure commercial cellular routers.
Using Digi solutions, you can build PCI-compliant applications that protect credit card data processing and transmission.
Reading PCI-Compliant 4G LTE Networking with Digi Enterprise Routers, you'll understand what's needed for PCI-DSS compliance and how Digi offers the industry's strongest support for this rigorous standard.