Automated homes, drones, interactive art installations– XBee can be found nearly anywhere. And, more and more devices are using XBee to connect to the cloud. Connecting a device to the Internet should be simple, that's why we built the XBee ZigBee Cloud Kit.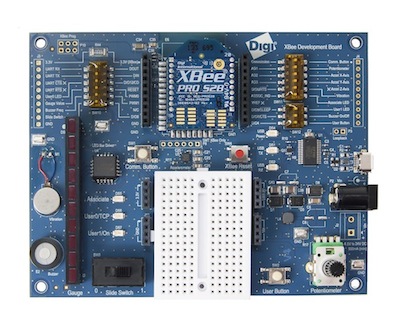 With an XBee ZB module and an XBee Gateway, it's easy to connect your robot, vehicle, sensors, or anything else to the Internet.
Maybe you want to build a mesh network to monitor the health of your garden or perhaps, you have a top secret idea for your business, but you're unsure where to start. Here are a few examples to help familiarize yourself with the XBee ZigBee Cloud Kit and go from idea to prototype and transform your imagination into reality:
3 Simple XBee ZigBee Cloud Kit Examples
Potentiometer
Potentiometer's are ubiquitous when it comes to building with electronics and they make great starting point when familiarizing yourself with new technology. Here, we'll connect this analog input to the cloud, so you can view the values on your Heroku-hosted dashboard. Potentiometers can be used for setting a level, determining an angle or just as a simple user interface adjustment. Nicknamed "pots," these components are variable resistors. With a simple twist you can alter the amount of voltage that flows out through their center pin.
Push Button
Want to control the light in your room from where you're sitting? If you answered yes, this example is a great place to start with the XBee ZigBee Cloud Kit. Remote control of a button is perfect for projects that require user input, or anyplace you need to detect a change in device state. One you've built your circuit, you'll be able to view the status of the button and control it from your web interface.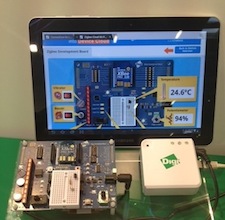 Temperature 
Temperature monitoring is another great starting point with analog sensing. In this example we use everyone's favorite temperature sensor, the TMP36 low-voltage linear sensor, which is included with your kit. After you've built this simple circuit, you can view the temperature on the dashboard.
Let's Get Started
These are just a few ideas to get you thinking about what is possible with this new XBee kit. You can find all of these examples and more here, and check out the XBee Gallery to find what others have built with XBee.
Interested in getting an XBee ZigBee Cloud Kit? Head over here.