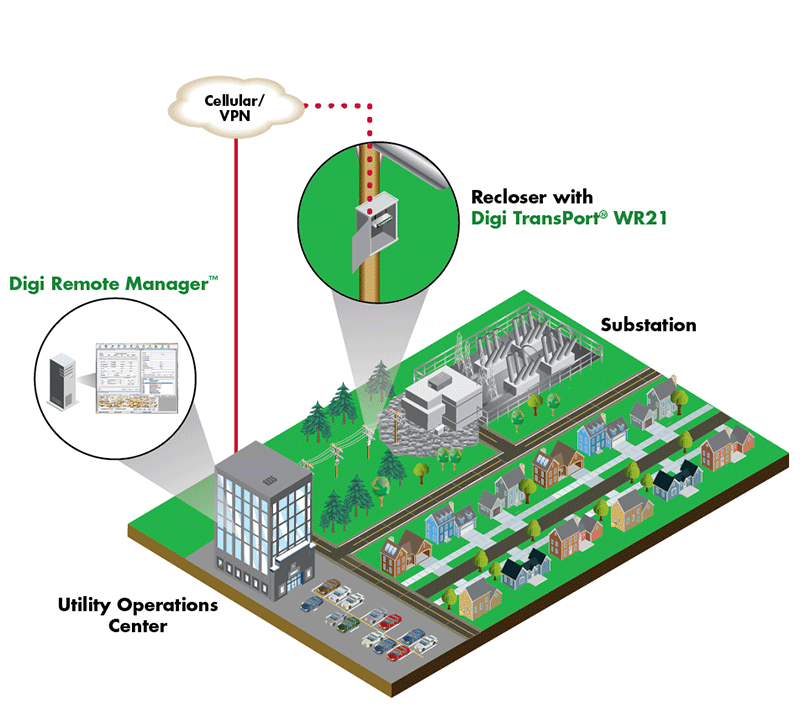 Distribution Automation
Distribution automation is the segment of the smart grid dealing with assets such as reclosers and capacitor banks that are located between the substation and the meter. When these devices do not work properly, customers report service problems, utility trucks are dispatched, and ultimately the utility loses money.
Replacing Aging Infrastructure
Digi helped a utility in one of the largest and fastest growing metro areas in U.S. to replace its aging distribution infrastructure. Specifically, the utility's reclosers—the devices that isolate faults on the power distribution network—were outfitted with Digi TransPort® WR21 routers for redundant communications. The cellular routers help to remotely detect and identify outage types and locations, self-heal and re-route power around the problem to minimize service disruptions to customers. Digi Remote Manager is installed on the utility's application servers, providing a central platform for support personnel to access and manage the Digi TransPort networks.
Flexible Solution Saves Time and Truck Rolls
Technicians can perform remote diagnostics and remotely reset the reclosers, eliminating the expense of sending out trucks when there is a failure. With such a targeted system, the utility can quickly isolate and fix problems on the grid more efficiently. Plus, the routers are carrier agile, which means the utility has the flexibility to change cellular networks in the future without incurring expensive hardware replacement.