Minnetonka, Minn. (January 31) – Etherios, a division of Digi International, today announced The Data Sensing Lab, a project that Etherios and Google lead at Google I/O in May 2013, has been named "People's Choice DIY Project of the Year" in the Postscapes Internet of Things Awards. The Data Sensing Lab demonstrated how real-time machine-to-machine (M2M) data provides insight into customer behaviors.
The Data Sensing Lab team, including employees from Etherios, Google and O'Reilly Media, created the 500 sensor-node network throughout the Moscone Center in San Francisco during the three-day event. The network collected data to answer questions about the physical world in a fun and awe-inspiring way.
Device Cloud by Etherios™ collected and sent 500,000 data points per hour to Google Cloud Platform for three days. Over 4,000 data streams reported updates on temperature, pressure, light, air quality, motion and noise.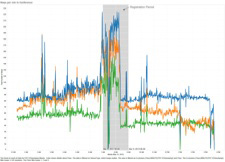 The project also utilized Digi's XBee® ZigBee modules and ConnectPort® wireless gateways to connect the nodes and send sensor data to Device Cloud.
Each year, Postcapes recognizes outstanding work done in the Internet of Things. The awards are a great indicator of what's to come—from new apps, devices and projects to emerging companies. You can see the full list of winners here.
For more information about Device Cloud by Etherios, visit: http://www.etherios.com/products/devicecloud/
About Etherios
Etherios, a division of Digi International, works with organizations of all sizes and across a diverse range of industries to deliver best-in-class cloud-based products and services. Capabilities encompass advisory, salesforce.com, wireless design and M2M consulting services. Etherios also offers cloud-based products, Device Cloud by Etherios™ and The Social Machine®. Together, these product and service offerings uniquely position Etherios as your end-to-end M2M cloud solution expert. Etherios is a salesforce.com Platinum Cloud Alliance Partner with offices in Chicago, Dallas, Minneapolis and San Francisco. For more information, visit www.etherios.com.
Press Contacts:
Elizabeth Herberg
Digi International
952-912-3051
Email: Elizabeth Herberg
For more information, visit Digi's Web site at www.digi.com, or call 877-912-3444 (U.S.) or 952-912-3444 (International).
All brand names and product names are trademarks or registered trademarks of their respective companies.