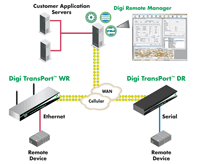 Digi Remote Manager is an enterprise class management and administration system for the Digi TransPort™ family of products. It makes management of large numbers of devices easier by providing a central platform for support personnel to access and modify remote devices.
The system incorporates a powerful database facility which helps IT departments to document their networks and to quickly identify and connect to remote devices with just a few mouse clicks.
Digi Remote Manager makes light work of rolling out configuration changes or updated key material by contacting up to fifty devices simultaneously and updating them in parallel. Multiple security levels ensure that only authorized personnel can make changes, and attempts to connect to devices are time stamped and logged to an audit file.
Routine operations such as software updates can be scheduled to take place at a specified date and time. This can be used to minimize communications costs or roll out a new configuration to coincide with a network change.
Digi Remote Manager also ships with sophisticated reporting tools that allow administrators to automatically produce exception reports and graphics showing where problems have occurred on the network. These can be shared with the network operator to help improve service