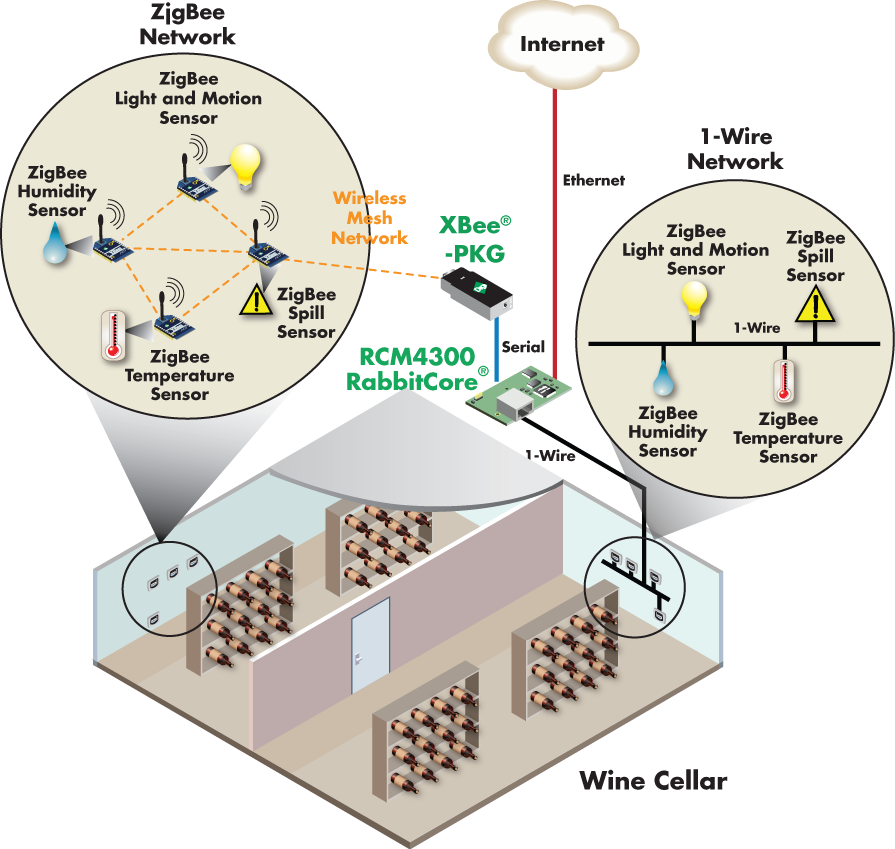 The Simple Sensor Application Kit provides an ideal design reference to interface a Rabbit-based system to a Maxim-Dallas 1-Wire® bus. The kit provides sample applications based on four 1-Wire devices to help users better understand and implement a 1-Wire bus using a Prototyping Board and a RabbitCore® RCM4300 module. The Simple Sensor Kit is the ideal reference on how to interface any 1-Wire device to any Rabbit module or processor. The 1-Wire interface is still widely used and is best suited where ZigBee networks are not reliable due to environmental constraints or if the distance between two points is very short.
Application Kit Contents
The Simple Sensor Application Kit includes:
RabbitCore RCM4300 Development Kit with socket for up to 1GB flash memory, used for data storage
Simple Sensor Prototype Board with 1-Wire devices

DS2406 SPST addressable switch
DS18B20 temperature sensor
DS2450 A/D converter
DS2480B line driver

Dynamic C® 10 CD with sample programs and libraries
RabbitWeb - Easily create web forms
Simple Sensor Application Kit Getting Started Guide
Universal Power Supply
Sample Program Descriptions
Sample Program
Function
1-WIRE.C
These sample programs check for and access all the included 1-Wire devices in this kit, except the line driver.
DS18B20.C
DS18S20.C
DS2406.C
DS2450.C
OW_RWB.C
This sample program illustrates how to detect and manage 1-Wire devices via a Web interface using Dynamic RabbitWeb scripting and Yahoo! User Interface (YUI) libraries.
OW_RWB_LOG.C
This sample program is similar to OW_RWB.C, but also uses the miniSD Card on the RCM4300, and will create a 1-Wire folder on the miniSD Card with subfolders for each of the supported 1-Wire device types.
Features and Benefits
1-Wire based application samples
Web Server capability
Sample program on how to detect and manage 1-Wire via a Web Interface
Easy-to-use integrated design environment
Applications
Weather Monitoring
Thermostat Control
Building Automation
Display sensor readings using RabbitWeb
Using the Dynamic C integrated development environment and RabbitWeb, you can create HTML forms for web pages that interface with C variables in embedded networked applications. The capability can reduce weeks or months of complex Common Gate Interface (CGI) programming down to hours and eliminate all of the C programming involved in parsing HTML form input and generating HTML pages based on program variables.
RabbitWeb is included in Dynamic C and is extremely useful for anyone planning or considering a web browser interface to monitor, control or configure their networked embedded application.
Interface Options
The Simple Sensor Application Kit provides for four different methods to interface the 1-Wire bus.
Direct interface — this interface connects one or two 1-Wire devices on the 1-Wire bus directly to the Rabbit microprocessor serial port. The interface uses one serial port at CMOS levels to drive the 1-Wire bus.
Discrete interface — this interface connects the 1-Wire bus to a high-current discrete driver circuit via transistors Q1 and Q2 that is controlled by the Rabbit microprocessor serial port. The discrete interface uses two serial port lines at CMOS levels to interface the transistor driver to the 1-Wire bus. Several 1-Wire devices may be located considerably farther away from the Rabbit microprocessor than in the previous option.
Bit-bang direct interface — this interface connects the 1-Wire bus directly to a Rabbit microprocessor I/O port.
DS2480 line driver interface — the DS2480 line driver interface connects the 1-Wire bus to an integrated component driver that is controlled by the Rabbit microprocessor serial port.
The kit provides seven application-level sample programs that demonstrate how to write applications that call and use the device function calls at the library level. These sample programs demonstrate common event loop processing for device I/O functions, and may be used as a basis to develop your own applications.
1-Wire Component Descriptions
DS2406
The DS2406 Dual Addressable Switch Plus Memory offers the ability to remotely control a pair of open drain transistors and to monitor the logic level at each transistor's output via the 1-Wire® bus for closed loop control.
DS18B20
The DS18B20 digital thermometer provides 9-bit to 12-bit Celsius temperature measurements and has an alarm function with nonvolatile user-programmable upper and lower trigger points. It has an operating temperature range of -55°C to +125°C and is accurate to ±0.5°C over the range of -10°C to +85°C. In addition, the DS18B20 can derive power directly from the data line ("parasite power"), eliminating the need for an external power supply.
DS2450
The DS2450 1-Wire® Quad A/D Converter is based on a successive-approximation analog-to-digital converter with a four to one analog multiplexer.
DS2480B
The DS2480B is a serial port to 1-Wire® interface chip that supports regular and overdrive speeds. It connects directly to UARTs and 5V RS232 systems