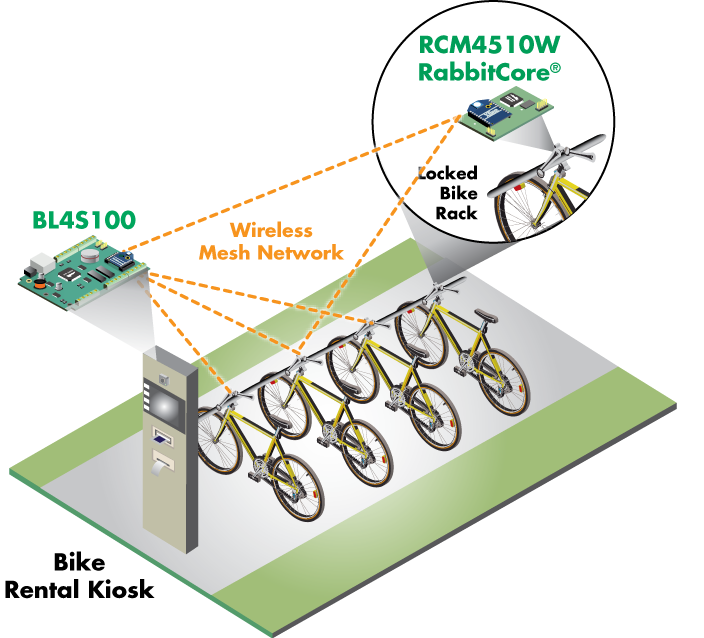 The RCM4510W next-generation RabbitCore module adds ZigBee®/802.15.4 mesh networking connectivity to the existing Rabbit® 4000 microprocessor features allowing you to create a low-cost, low-power, wireless network as part of your control solution for your embedded application.
The RCM4510W RabbitCore module is equipped with an on-board ZigBee/802.15.4 modem for wireless connectivity. Features also include 512K flash memory and SRAM, 40 general-purpose I/O, and up to 9 general-purpose I/O 4 of which can be set up as analog inputs via the ZigBee module.
At the heart of the RCM4510W is the Rabbit 4000 microprocessor which features a clock speed of up to 29.49 MHz. Other features include hardware DMA, auxiliary I/O, quadrature decoder, input capture, GPIO lines shared with up to five serial ports, and four levels of alternate pin functions that include variable phase PWM. The Rabbit 4000 boasts an additional 500+ new operational code instructions that increases the processing efficiency, from its predecessor the Rabbit 3000.
The RCM4510W RabbitCore module is easily interchangeable with other RCM4xxx based products due to electrical and functional compatibility. With a small footprint of 1.84" x 2.42" (47 mm x 61 mm), the RCM4510W is compact and can easily be mounted directly onto a user-designed motherboard, along with CMOS-compatible digital devices.
Please note that Znet 2.5 is not recommended for new designs. While it is an effective solution, new customers/applications should instead consider the XBee ZB version. The ZB module is designed to support the latest Zigbee Pro feature set which provides the most advanced ZigBee network capabilities.
Developing with the RCM4510W
The RCM4510W Development Kit has the essentials that you need to design your own wireless microprocessor-based system. The kit come complete with a RabbitCore module, a prototyping board, accessory parts and all development tools specifically designed to get you up and running in minutes. Development kits come with our industry-proven Dynamic C integrated development software that includes an editor, compiler, and in-circuit debugger. Programming is easy with hundreds of samples and libraries that can be used as building blocks to your code.
Key Features
RabbitCore module running @ 29.49 MHz
Designed for ZigBee®/802.15.4 wireless connectivity
512K flash memory, 512K data SRAM
Up to 40 general-purpose I/O lines configurable
Up to 9 additional general-purpose I/O lines (up to four of which may be set up as analog inputs)
available through the ZigBee modem available through the on-board ZigBee compliant RF module
Small size: 1.84 × 2.85 × 0.54 (47 mm × 72 mm × 14 mm)
Design Advantages
Wireless mesh networking
Low-Power
Applications
Data Acquisition
Point-of-Sale (POS)
Building Automation