Customizable Offerings Tailored to Your Unique Needs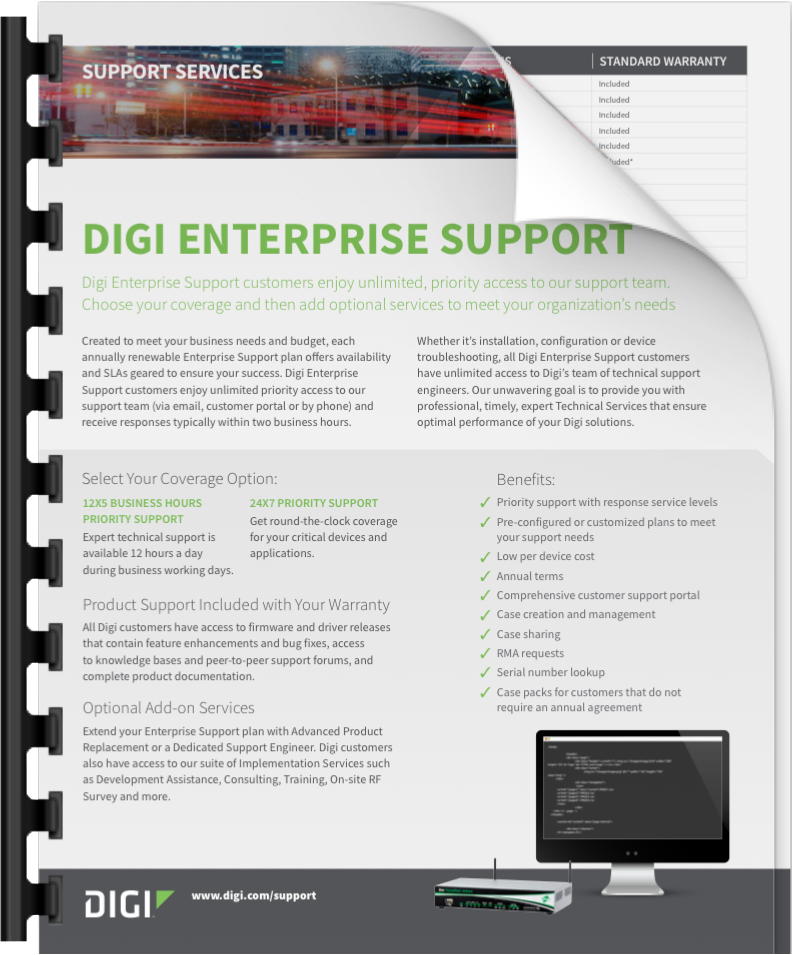 Download the overview
A Complete Range of Standard Support Services
When you need no-compromises performance, you need a partner who's with you every step of the way, every minute of the day. Digi Enterprise Support is the annually renewable service that covers the devices and applications you've deployed that must stay operational at all times.
Whether it's installation, configuration or device troubleshooting, all Digi Enterprise Support customers have unlimited access to Digi's team of technical support engineers. Digi Enterprise Support customers enjoy priority access to our support team (via email, customer portal or by phone) and receive responses typically within two business hours.
You can select from two options with your one-year Digi Enterprise Support subscription:
12x5 Business Hours Priority Support
Expert technical support is available 12 hours a day during business working days
24x7 Priority Support
Get round-the-clock coverage for your critical devices and applications.
Digi Enterprise Support plans also include access to firmware and driver releases that contain feature enhancements and bug fixes, access to knowledge bases and peer-to-peer support forums, and complete product documentation.
Expert Support in Every Area

Hardware Support

Software Support

Development Support

Consulting

Training
Extend Your Digi Enterprise Support Subscription with These Optional Services
Advanced Replacements
If, at any time during your warranty period, your hardware should fail, Digi will send a replacement unit via prepaid overnight shipping.
---
Dedicated Support Staff
Tap the expertise of a dedicated Digi support engineer when you have questions and need fast resolutions. Your dedicated support engineer takes the time to learn about your solution, so they can assist with quick and effective problem resolution. Our support engineers also work closely with their counterparts in Digi Wireless Design Services to support any application you develop. Digi support staff assist with any issues that arise when using that application, including bugs or feature enhancements.
---
Get expert help during regular business hours for your programming challenges and questions related to Digi products. This expert support can dramatically shorten your time-to-market and minimize design risks. Development Support covers support for features like Digi Device Cloud web service programming, code debugging/review and API assistance for any Digi product or development kit.
---
Training
Digi provided training can shorten your development cycle while giving your team a stronger foundation on our products, innovative solutions and implementations. We customize every training engagement to meet your exact needs. You can take classes through convenient web sessions, at your facilities or at Digi's offices.
---
Let Digi experts help you design and optimize a robust RF network or troubleshoot difficult architectural problems. These services include our XBee® K-Node to test a deployment up to 1,000 devices in a variety of configurations within a controlled environment. Or, Digi can configure a ConnectPort® gateway to test your Python™ application or simply to have external access to the nodes for testing purposes. We simulate distances, line breaks, node failures, bad data, and other conditions to help ensure you have the most robust network setup.
---
RF Site Survey
Digi engineers come out to your site to analyze and explain the RF challenges you may face. Our experts will learn about your solution requirements, create a site-survey map and recommend solutions—including products, antenna placements and more. You get a complete written report detailing the findings and recommendations.