In order to comply with FCC rules and obtain a "modular" certification, it is required that Digi radios utilize a "non-standard" connector. This is to ensure that the radios are used only with approved antennas. Below are the various antenna options available on Digi radios.
RP-SMA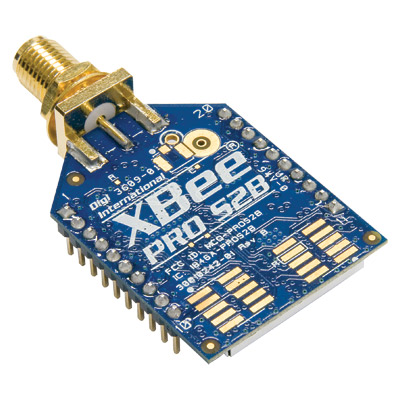 The Reverse Polarity SMA (RP-SMA) connector uses the same body as a regular SMA connector. In order to be a "non-standard" conductor, the gender of the center conductor is changed. The female RP-SMA actualy has a male center conductor. The radios are equipped with an RP-SMA female plug, the antenna is an RP-SMA male jack.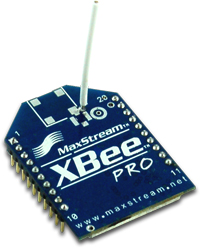 Integrated Wire
The Integrated Wire antenna utilizes a 1/4 wave wire soldered directly to the PCB of the OEM module. The Integrated Wire will see a typical gain of approximately 1.5-1.8dbi. The Integrated Wire is available on the XBee/XBee-PRO, 9 and 24XStream, and on the 9XCite radios. There is no Wire antenna offered on the 9XTend radio because at 1W of output power, some of the harmonics are beyond what the FCC will allow.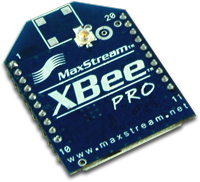 U.FL
The U.FL connection allows for connectivity to an external antenna. Typical connection is either a dipole antenna with U.FL connection, or U.FL to RP-SMA antenna adapter cable. The U.FL connection is available only on XBee/XBee-PRO modules.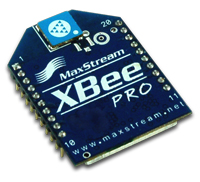 Chip
The low-profile Chip antenna is ideal for applications where mechanics are more important than range. The Chip antenna has a gain of -1.5dbi. The Chip antenna variant is no longer available and has been succeeded with the PCB antenna.
MMCX
The Micro-Miniature connector (MMCX) is a good solution for high volume, price-sensative applications. The small size and snap-on connection make it suitable for attaching an external mounted antenna to a radio module inside an enclosure.
N-Type Connector
An N-Type connector does not come installed on any Digi module, but is a common connector used with higher gain antennas such as the Yagi, or Fiberglass Base-Station. Digi can supply "RPSMA to N-Type connector" cables in various lengths.
RP-TNC
The Reverse Polarity TNC (RP-TNC) connector is similar to the RP-SMA connector, in that the gender of the center conductor is changed. The female RP-TNC has a male center conductor as well. The RP-TNC is the connector provided on the XPress Ethernet Bridge.
For more information on the XBee antenna options please follow this link to our knowledgebase article
XBee Antennas
.