Before installing the driver, make sure you have the PKG-U device and the X-CTU installation disk in your PC. If you do not have a Digi CD, you can download the USB driver from our web site*. You may also want to verify if you have sufficient privileges to update your PC's USB driver; otherwise your PC may restrict access to updating or installing the USB driver.
Most customers will plug the PKG-U device along with the USB cable into their PC. If the hardware has never been installed before, the computer will "pop-up" a message at the bottom of the screen indicating USB device detected: Found New Hardware, USB Serial Port and PKG-U. The Windows Add New Hardware Wizard program will appear as seen below: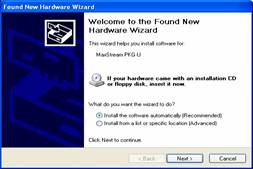 In the Hardware Wizard we suggest to select the [recommended] option first.

When your PC has located the driver, it may be flagged with a Windows Logo Testing. Click the "Continue Anyway" button. The computer will create a "system restore point" in case you need to uninstall the driver.
If your PC is not able to locate the driver on its own you may want to select the Advance function and direct it to the ftser2k.sys file. The wizard program may ask you to insert the compact disk labeled: FTDI USB Drivers Disk. Select the "OK" button or browse to the file. The program may also include a message indicating: "The File (ftser2k.sys) on FTDI USB Driver Disk is Needed". You may select the "OK" or use the "Browser" option to find the proper location.
Additional Troubleshooting:
If your Device Manager window is open, your USB Serial port will have a yellow exclamation point next to it (as seen below).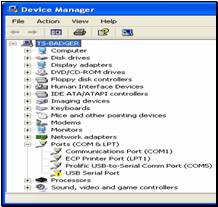 The yellow exclamation point means the PC has not installed a driver for the new device and cannot properly operate it. If you plug or unplug your USB, the Device Manager automatically updates its self to the changes within seconds. After you have selected the "Recommended" installation, your PC will search for the recommended function software.

When the driver is being updated it will seem like it is processing it twice. One of the processing cycles is for the USB hardware driver. The other cycle initializes and sets up the virtual COM port.
When the driver installation is successful the Wizard will display the finishing status and the portion of the Device Manager will no longer have a flagged yellow exclamation point on the USB modem.
* The USB Driver found on our website must be decompressed before the drivers can be installed.
If you are having trouble or you are unable to install the USB driver, please contact Digi Technical Support for assistance.