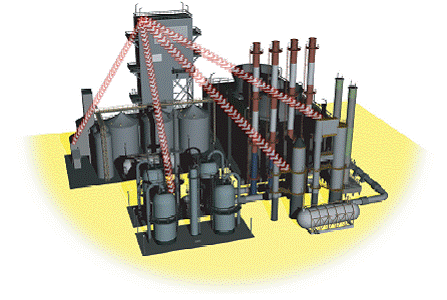 An industrial automation company uses Digi's Multipoint XPress Ethernet Bridges (XEBs) for SCADA (Supervisory Control And Data Acquisition).
Rockwell Automation's market-standard Allen-Bradley Ethernet PLCs are connected to data/control points in an industrial plant (see figure above). Up to 16 PLCs are connected to Digi's Multipoint XEBs, which act as a wireless network switch to connect the PLCs back to a central PC. The PC runs Rockwell RSLinx software for monitoring flow, controlling pumps, and opening/closing valves.
This application utilizes the Industrial (Outdoor) version of the Multipoint XEB, which features a NEMA-4 enclosure and an operating temperature of -40 °C to 70 °C. A protected, on-board DIP Switch allows the user to configure each Multipoint XEB as an Access Point (base) or Subscriber Unit (remote). Radios can be configured in minutes without having to use a PC.
The Multipoint XEB operates in the 900 MHz license-free ISM band of the U.S. and Canada. It boasts a range of up to 1000 feet without RF line-of-sight and up to 15 miles (with high-gain antenna) for RF line-of-sight applications. Networks are secured with 128-bit encryption.
Digi is pleased to report successful internal testing with the following PLCs:
1756 ControlLogix
1763 MicroLogix 1100
1747 SLC5/05
1761 ENI
DigiOne IAP
Results are shown in the figure below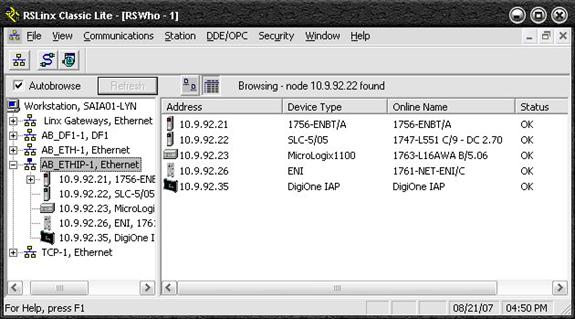 Note: The XEB does not perform IGMP snooping, which limits propagation of ODVA I/O multicast packets. If this is required it can be performed by the external switch linking the XEB into the network.