Changing a Gateway's Device Cloud Remote Configuration settings from the

Device Cloud:
The easiest way to change the Device Cloud configuration of supported Gateway is from the Device Cloud UI Properties page of a Gateway which is already connected to a Device Cloud server.
Since you're reading this article, you'd probably like to know how to configure your Gateway through its built-in Web User Interface (WebUI). Keep in mind that not all Device Cloud-capable products have a built-in Web UI, so if it seems you have a Gateway which falls in this category, you may want to
look here for a better answer
instead.
Changing a Gateway's Device Cloud Remote Configuration settings from the WebUI:
In order to access the built-in WebUI of your Digi Gateway, you first of all have to know the IP address of the Gateway (LAN or WAN). If you're trying to configure a Cellular-connected Router Gateway like a ConnectPort X4 or Digi Connect WAN 3G, you may be able to configure the Gateway via the Gateway's Mobile IP address, provided your cellular account is one which supports Mobile Termination, and that you left a pinhole for HTTP or HTTPS through which to get to the WebUI (if configured for IP Passthrough). If you know the Mobile IP address and have met the conditions above, you should be able to open the Gateway's WebUI by opening a browser to the Mobile IP of your Gateway at this time, keeping in mind that Local configuration is always better when available as an option, since it won't run up your cellular bill, is faster, and generally less prone to connection loss.
If you can get to the Local IP of a Cellular Router Gateway instead however, or if this is an Ethernet or Wi-Fi connected Gateway and you're at that location, you can access the Gateway's WebUI via the Gateway's Local IP address instead, if known. Often you can check your LAN Router's admin page to see which IP address the Ethernet MAC of the Gateway is using, or if needed, use the
Digi Device Discovery Tool for Windows
. If you run the Device Discovery Tool and see a "no devices found" message, and you've verified your Gateway is both powered on and has a solid Link LED present, you may want to check this article for additional
Digi Device Discovery Troubleshooting Tips
.
Assuming you've discovered either the Mobile (WAN) or Local (LAN) IP address and are now looking at the Web User Interface of your Gateway, the configuration steps to get Device Cloud Connected are pretty straightforward....
1. Open the Configuration --> iDigi link on the WebUI. It should look similar to this: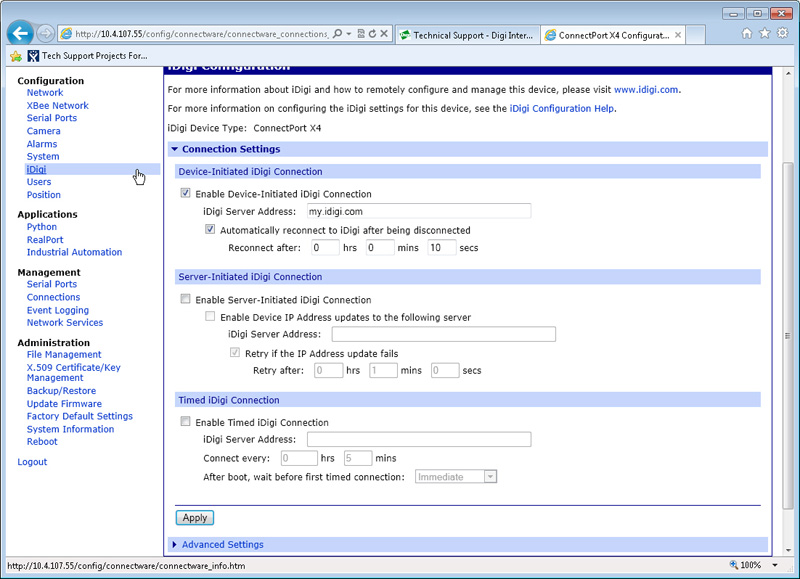 Example: ConnectPort X4 ZB WebUI Configuration --> Device Cloud page
2.
On the page above, copy the url for the desired Device Cloud server to the right of the "iDigi Server Address" field, under Device-Initiated iDigi Connection. The example shows the url for the US Device Cloud- change accordingly if your Gateway is on a different Device Cloud server (US=login.etherios.com, UK=login.etherios.co.uk).
3.
Ensure the "Automatically reconnect" box is checked as shown in the example, along with the 10 second value listed (or a reasonable alternative) as this is the box that tells your Gateway to re-connect to the Device Cloud should the connection get broken for some reason.
4.
Apply the changes when the configuration is complete.
5.
Reboot the Gateway from Administration --> Reboot, as shown below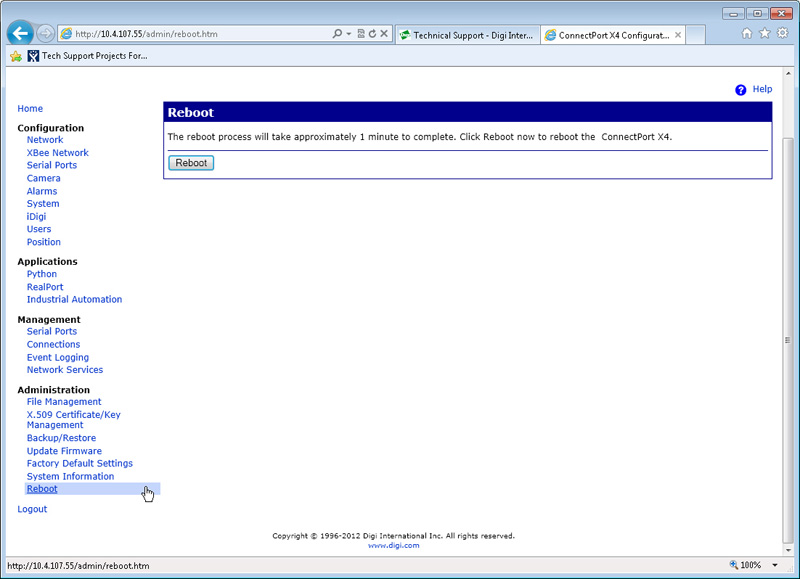 Example: ConnectPort X4 ZB WebUI Administration --> Reboot page


In Closure:
If all went well, your Gateway should now be "Connected" on the Device Cloud server you just configured in Step 2. If this isn't the case, reboot your Gateway, wait a few minutes, then check again. If this still isn't working, you may need to
contact Digi Technical Support for assistance
.