Please refer to the following documents for more information about pinouts and cabling:
SMA documents:
SMA Cabling Plan
Sunny WebBox Product Manual
SMA-5000/6000 Installation Manual
Digi documents:
XTend PKG-R Product Manual
XTend NEMA Product Manual
XStream PKG-R Product Manual
XBee Adapters
Note: Serial cables do not have a standardized coloring scheme like you would see with Cat5 or similar cable. The only way to be absolutely certain you have the correct pins connected is to use a multimeter and measure continuity. If purchased with accessories, the XTend and XStream include DB9 to RJ-45 converters, this will allow you to use Cat5 or equivalent cable (be aware that this adapter does not allow you to use the modem as an Ethernet device, it only allows the use of Cat5 cable as a conductor for RS-485.) See the product manual for more information and instructions on wiring these adapters for RS-485.
By default, Digi modems are set to 9600 baud out of the box. You must change the baud rate to 1200 baud using
XCTU
. The parameter is labeled as BD (Baud Rate), and it needs to be set to 1. This must be done on both radios.
The diagrams below are assuming you are using the PKG-R variant of the XTend/XStream. If you are using an RS-485 XBee Adapter or the NEMA enclosed XTend, refer to the product manuals above for correct pinouts.
Connection between SMA inverter and Digi Modem: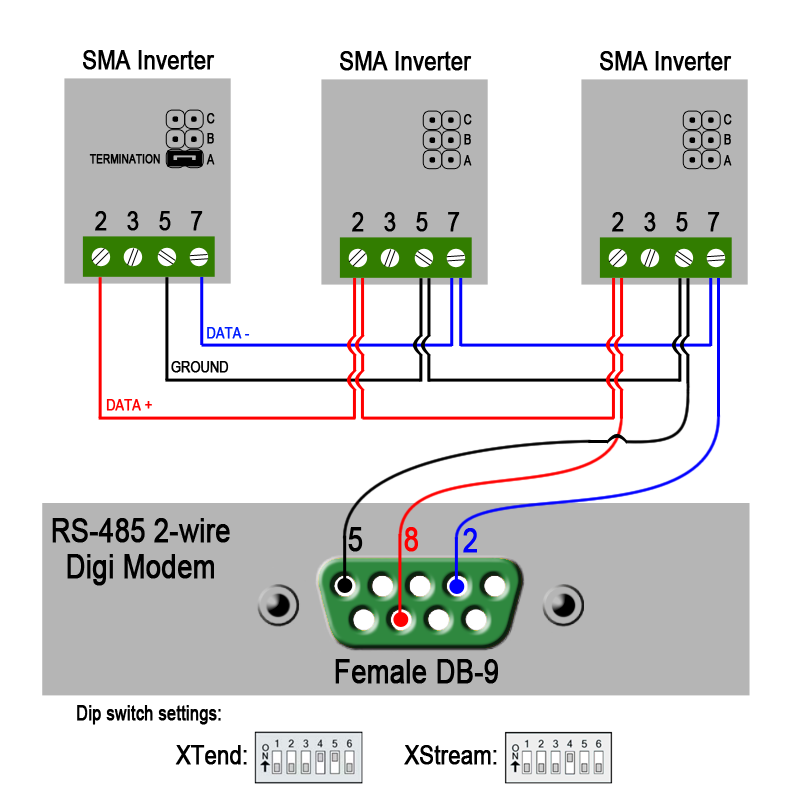 Connection between Sunny WebBox and Digi Modem:

DISCLAIMER: The information in this article and wiring diagrams was made using information provided by the SMA cabling plan linked above, and feedback from professional installers. Digi has no affiliation with SMA and this information is provided without guarantee of accuracy.
If you find errors or can provide more accurate information on how to connect this equipment, please contact support at 1-866-765-9885 so that we can update this article accordingly.