We were excited to see many projects that use Digi products nominated for Postscapes Internet of Things Awards. We were even more excited to see many of those projects named as winners including Kijani Grows, Eve, Libelium's Waspmote and Connecting Light. You can check out each winner below.
Kijani Grows, DIY Project Postscapes Winner
Kijani Grows produces smart aquaponic systems that use sensors and microprocessors, such as the XBee, paired with the cloud and social media networks to help you grow a least a plate of organic microgreens every day.
Eve, People's Choice for Open Source Project
Eve is a plug in board for the Raspberry Pi mini computer. A hub that connects your wireless devices to each other and the web. At her heart Even is a communicator (between devices), a facilitator, and a guardian (a gateway to allow you to see what is going on in your world). You can see the Kickstarter page for Eve here. The project was successfully funded in November 2012.
Libelium's Wapsmote, Second Place in People's Choice for Smart City Application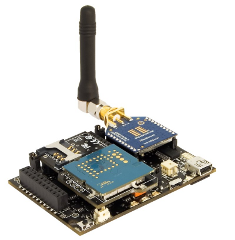 The solar powered Waspmote system can be deployed across a wide range of applications in urban spaces such as monitoring air quality, waste container levels, structural health and noise maps.
Connecting Light, Second Place in People's Choice for Networked Art Project
Hundreds (400 to be exact) of six-foot in diameter weather balloons were equipped with high-powered LEDs driven by Programmable XBee radios that communicated with ConnectPort X4 cellular gateways through the iDigi Device Cloud  to illuminate Britain's greatest Roman monument, Hadrian's Wall. Digi Professional Services also helped to design the network architecture as an Internet of Things solution. You can see a diagram of the setup of the 73-mile connected work and learn more about the technology here.
You can see the full list of winners on Postscapes and take part in the conversation on Twitter with the hashtag #IoTAwards.
Tags:
Waspmote
,
xbee
,
Smart City
,
Internet of Things
,
Connected Art
,
DIY