SX Create is doing amazing work in Austin by fostering a community of makers, hackers, and DIYers. Just this last weekend, SX Create held a number of talks and meetups covering everything from 3D printing, to drones, to biohacking. Digi's very own Chief Innovator, Rob Faludi, was fortunate enough to participate in the festivities by sharing the stage with the likes of Sparkfun's CEO Nathan Seidle and Silicon Labs' Peter Vancorenland.
The event, "Making to Manufacturing", brought together tech experts to share their triumphs and failures and offer words of wisdom to fellow makers. They focused on common hurdles entrepreneurs must overcome while taking their hardware creation to production. The conversation revolved around answering questions like the best way to prototype, what tools to use, and even how to select partners and where to manufacture. Everything from how to handle QA, to pricing, to developing a sales team was covered.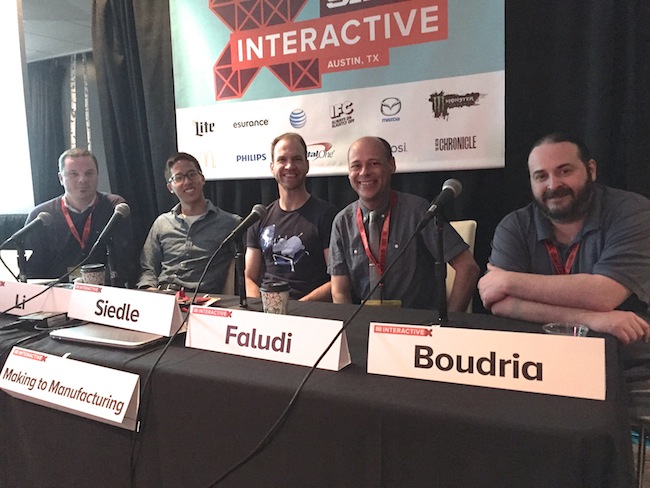 Other SXSW Tech Coverage
6 Incredibly Thought Provoking Tech Innovations from SXSW 2015
Virtual Reality is now legit, Uber is one of the largest tech employers, and many more interesting insights from SSXSW 2015.
Headed to SXSW? Here Are Some Crazy Facts About the Conference
Do you stay up late wondering how many grilled cheese sandwiches are consumed per minute at SXSW? Check out this infographic.
Trending at SXSW: Mind Cloning, Off-The-Grid Messaging
A quick look at the most notable and prevalent conversations happening at SXSW Interactive.
Closing
With over 145 attendees, it was standing room only and was the most attended event at SX Create! Special thanks to Silicon Labs for hosting the event and gathering a great cast of speakers. Check out this blog post of theirs to see to see more photos and tweets as well as the questions and answers from the session!