It's been a while but we're back with another Digi hackathon! Digi Chief Innovator, Rob Faludi, traveled down to our Rochester office to see what projects our Device Cloud developers could bring to life. The teams explored ways to expand Device Cloud's capabilities, get hands-on with XBee connected sensors, and have fun doin' it! Here's a quick look at the projects created.
Team PB&J: Working with XBee Connected Sensors
For the parents out there, you might want to listen up. This project transformed a motion sensor into a complete system capable of tracking childrens' mischievous late evening/early morning adventures. The infrared (IR) sensor detects distance and is placed in such a way that if a child gets up and out of bed at night, the parents can be alerted and take proper action.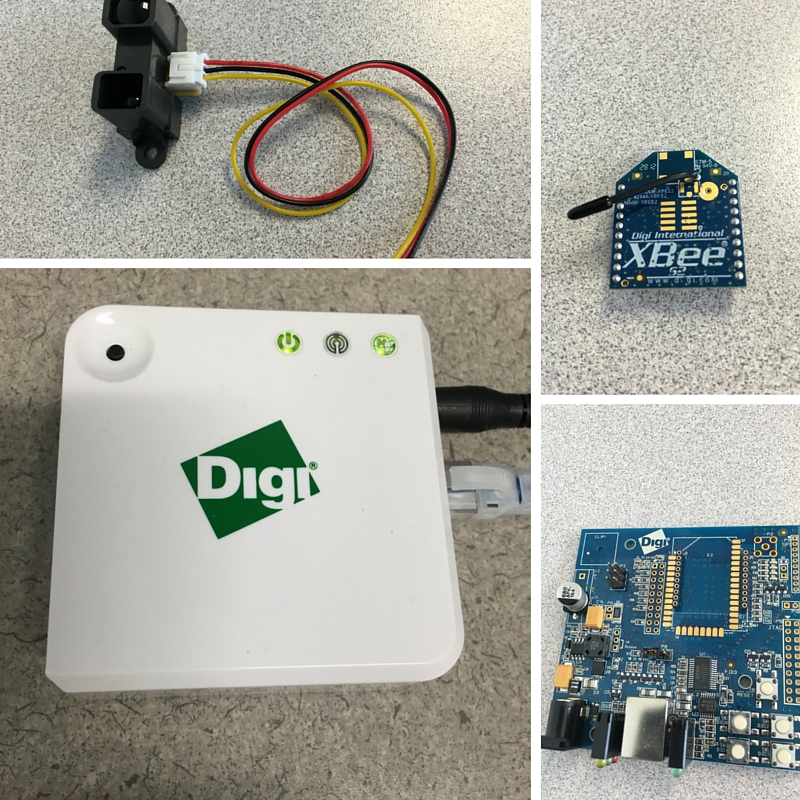 The IR sensor was installed on the child's bedroom doorway so it can determine if the child leaves the room. To enable wireless connectivity, the sensor is connected to an
XBee module
and connects to Digi Device Cloud through an
XBee Gateway
. Within Device Cloud, the team configured a data condition alarm which fires when movement is detected. Once the alarm fires based on the set data point, an SMS is sent to the parents' mobile device and the necessary actions follow.
Team Lizard: Device Cloud Improvements
In this post we'll only skim the surface of the enhancements the team made to the Digi Device Cloud platform. The primary change they made to Device Cloud was how the platform handles monitors. Monitors are a way for Device Cloud customers to be notified when events or changes occur on Device Cloud. This could be a newly provisioned device, data uploaded to a data stream, changes to device configurations, etc.. These are all considered "events."
When a server generates an event, the event is saved in Cassandra and forwarded to the Device Cloud server with the customer's monitor. The event is sent along to a customer's monitor application.
The team wrote a simple bit of code to enable customer's to monitor for only truly exceptional events. These changes bring performance improvements to Device Cloud since servers detecting events can filter prior to saving or sending the event through the cluster.
Quiet Hours for alarm notifications is another feature they built into Device Cloud. There are certain use cases when customers want to be made aware of triggered Device Cloud alarms immediately but only at certain hours of the day. The team made a simple addition to the alarms configuration menu allowing customers to easily set their "quiet hours."
In addition to making the Device Cloud platform better, faster, stronger, Team Lizard had time to spare and created an iOS application. The primary focus of the mobile application is to make adding devices into accounts a more streamlined process. With just a smartphone, users can scan a label on the device and it is securely added into the user's account.
We've assembled a few images to give you an idea of what the application would look like:
Team Bald Monk: ELK Evaluation


ELK (Elasticsearch, Logstash, and Kibana) is a collection of open source projects and a comprehensive tool for analyzing and visualizing large amounts of data. It's a turned into a popular industry solution for log aggregation. Team Bald Monk took the tool for a test drive to explore how it could function within the Digi Device Cloud environment.
The goal of this event was to give everyone an opportunity to work on an idea they've had kicking around for a while whether it be an improvement to a Digi product or just gaining experience with a new technology. Hackathons offer valuable time to explore what's out there and provide inspiration for innovative ideas.
Click here to view our entire archive of Digi Employee Hackathons!