Some of the most creative applications of our products come from students. Every year, we are involved with student-led projects that are breaking new ground in industries like automotive, solar power, smart energy, and more. We support these efforts as it leads to insightful feedback on our products and fuels a talented workforce. Here is one of the many projects Digi is helping to support.
The SEVT is a student organization at the Massachusetts Institute of Technology dedicated to designing, building and racing solar powered electric vehicles in long-distance, international competitions. Their upcoming race, the American Solar Challenge, starts in Austin and the team will travel north all the way to Minneapolis.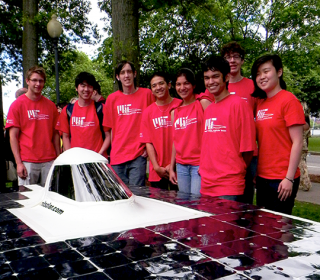 In order to optimize energy use, the team needs to analyze the car for any environment–especially weather conditions. The ability to monitor numerous data points and adjust accordingly allows the vehicle to cruise at highway speeds, all while consuming less energy than a hair dryer.
The crew is using two XTend RF modules. One module is used to send data to a strategy computer and another connects to the telemetry computer. The strategy computer is used to optimize the energy budget for each day and calculate the velocity that will produce the highest efficiency. The telemetry computer offers an in-depth view into the the car's entire electrical system that enables the team to identify anomalies and debug problems on board the vehicle. The team's current vehicle model, Valkyrie, can cruise for two hundred miles on a full battery and with the solar array, it can cruise indefinitely as long as it is under full sunshine.
The American Solar Challenge  starts on July 21, 2014 in Austin. Over the following week, the teams will cross the country and arrive in Minneapolis July 28, 2014. We'll have a follow-up post after the race. Wish them luck!
Are you student working with Digi products? Let us know how you are innovating on Twitter, our Facebook Page, or in the comments below. And check out the other student projects we are a part of here.