Cellular Connections You Never Knew Existed
You drive into a gas station and notice the LED sign that reads how high the Powerball® is this week. You pull up to the pump and make a mental note to buy a ticket. As you wait for your tank to fill, the screen on top of the pump shares today's weather and a few specials you can find inside. Then, you walk into the gas station to buy that lottery ticket. The lottery register greets your purchase, and you're ready to move on with your day—hopefully with the winning ticket in your pocket.
During your time at the gas station did you ever consider how many wireless connections were at work? Probably not.
When you do think of wireless connections, it's likely Wi-Fi hotspots or smartphone payment tools like Square that come to mind. However, there are many little-known and less visible ways that retailers and service providers use 4G LTE connections to make operations work. From digital signs to lottery terminals, wireless connections help make our world go around in ways you may have never imagined. They're all working to create an experience for you as a customer and a return for merchants and manufacturers. Let's dive deeper into a few applications where invisible wireless "workers" are impacting your retail environment.
Tucked behind the counter at your local convenience store, you'll find that signature register or lottery terminal. You might just think of this as the machine that prints your easy-pick, but if the terminal gets disconnected the vendor is on the hook for much more than your ticket alone. It's up to the store to ensure the machine is up and running at all times, so no revenue is lost. In fact, the damage can add up to more than all of the numbers on your ticket combined. For that reason, many of these terminals are connected to a datacenter with both a satellite and a 3G or 4G LTE connection.
Although the vast majority of lottery revenue is returned to players in prize money, the remainder pays for the operation of the lottery—including paying the retailer for hosting the lottery terminal. More importantly, the lottery also contributes hundreds of millions of dollars to state budgets. In 2012 in the state of Minnesota alone, $124M was contributed to funds such as environment and natural resources, game and fish, metropolitan parks and trails, zoos and infrastructure. The State Gaming Commission authorizes one vendor to operate their entire statewide lottery. In exchange for that level of access, the commission holds the gaming contractor accountable to maintain a high service level. If terminals aren't able to communicate, the gaming contractor can be held accountable for damages of $20 per minute or more—per terminal.
Tire Air Vending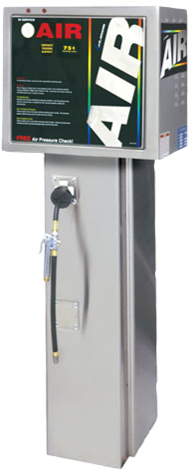 Hopefully, it's your lucky day and you have a winning ticket in your pocket, but in the case that your day started out rough and your dealing with a flat tire, you can pull up next to an air-pump kiosk. Don't have change? No problem. Swipe your credit card and the transaction is sent over a cellular connection.
While the connection makes payment collection more convenient for you, there's a lot more at stake than meets the eye. In the past, technicians had to phisically visit every single machine to empty the coin bin– whether it was full or not. Not, a cellular connection enables the machine to report back how full the coin bin is, along with the health of the machine. This saves the manufacturer millions of dollars in employee and transportation costs, and it ensures all machines are up and running properly creating even more revenue– not to mention better customer service for the retail operations that host these machines.
In many cases, manufacturers experience a loss between money collection and revenue that makes it back to the business. In one example, receipt reconciliation loss was $11M per year. In the first year, a connection improved that loss by 80%, providing a bottom line impact of $8.8M. Lack of pick-up optimization (sending someone to collect the money after the machine is already too full to accept more coins) created an annual loss of $5.5M; that was improved by 50% and impacted the bottom line by almost $3M. Downtime, which caused the most significant loss at $12M per year, was improved by 30%. With numbers like these, an air vendor could easily double the value of the system in one year alone.
Charging Stations & Digital Signs
Have you ever charged your mobile phone while enjoying a cup of coffee at Starbucks? If you have, you know that finding a free plug in a packed coffee house can be hard. These charging stations can be even more valuable at the airport —we've all fought for that prime spot in the flight gate waiting area. Now, Monster Media has created a digital experience to accompany the convenience. You'll see a digital ad while your phone or laptop is being charged. That content is delivered by a 4G LTE connection—the same type of connection that can also deliver information to the display screen on a gas pump.
Wireless charging stations are a huge value-add to customers, and in Starbucks' case they encourage people to stick around longer—which leads to more coffee sold. For advertisers, this value can be paired with their message—a message that might even be specific to your currently location. Similarly, at the gas pump, customers have the convenience of catching the news or relevant information while pumping gas, and gas stations are able to advertise deals to lure customers into the store to make purchases.
Bottle Recycling Machine
For some of us, returning bottles is a well-known past-time. But for many states, reverse vending machines are becoming common-place. In either case, the system enables consumers to recycle, make money and keep neighborhoods clean. Recycling is so popular today that machines can fill up fast, which causes downtime. How does the vendor know when the machine is full? A cellular connection to HQ. 
rePLANET added a cloud connection to their recycling center solution. Without a wireless connection to the machine, a technician would have to drive hours, costing the company hundreds of dollars. Now, with a wireless VPN connection, the machine reports its capacity remotely. The technician's PC can be remotely controlled with the cellular connection to get updates and new configurations. The new method costs less than 20% of the cost of drive time and shipping and takes about 10% of the total time previously required to correct problems.
So, the next time you pull up to a gas station or visit a store, take a closer look at the digital sign, lottery terminal, air pumps and bottle recycling machines—you won't be able to see the wireless connection, but you can be sure that it's working for you and for the stakeholders who put it there. Those wireless connections are making your life easier and more interactive, and driving revenue and extreme savings for organizations all around the world.
Want to learn more about how businesses are using cellular technology? Check out this story to see how Tel-O-Fun is using cellular connections to handle bike rental payments in Tel Aviv.