Colorado 17-year-old Easton LaChappelle is on a mission to change the world with his XBee enabled prosthesis.
"I'm from a small town. This year's graduating class had 23 people. The nearest Radio Shack is an hour away. I had to find my own thing to do—which was good. I just wanted to make something useful." Easton said in a casual and confident voice. "Last week I spoke to 2,000 people at TEDx, this is what I'm meant to do."
TEDx is just one of the endeavors Easton has taken on, his Kickstarter campaign raised over $18,000 in 30 days, he's been to the White House, shaken hands with the President of the United States and landed work with NASA.
What started out as a simple glove with flex sensors is now on it's way to becoming one of the world's most advanced prosthesis with a waiting list of 300 amputees.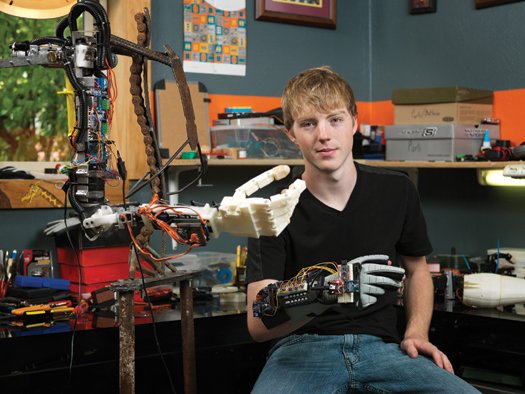 Here's how Easton, at 17 years old, is making his mark on the world.
At 14, Easton tapped into his desire to take things apart and put them back together in a new way. With an Arduino and direction from online communities like Instructables, SparkFun and Hack a day, Easton has self-taught himself how to build with electronics and how to program the electronics.
He came up with the idea to create a wireless hand that's controlled by a glove. "I found flex sensors and sewed them onto a glove. I made my own custom PCB boards, a custom servo shield. Then, I added XBee modules. The wireless transceivers makes the project much better."
While Easton's drive paired with his cool and collected personality make the road to his accomplishments look easy, he admits that he had to learn a lot—from configuring XBees to programming the system.
While Easton has had a lot to learn, he has a distinct goal in mind. In his own words, he's "reinventing the conventional prosthesis."
"I wanted to make an arm that was lighter than a humans, but had the same strength– all the way up to the shoulder. I've achieved all of that for a low price," Easton explained. "The other half is the control system. It uses a wireless brain EEG headset that picks up 10 different channels of your brain."
The next generation of the hand can sustain 50 pounds of weight on an individual finger. Accessibility is key, so Easton has worked to get the price down to about $400 by using 3-D printers to bring his designs to life.
Easton's work with robotics doesn't stop at reinventing conventional prosthetics, he's also interning with NASA. At NASA, he's working on mechanical design and a tele-robotic arm. The project he's working on, the Robonaut, which also uses Digi products, mocks human movements to perform maintenance tasks or duties that are dangerous for astronauts.
So what's next for Easton? He's sticking to his goal of helping people with prostheses. In the next two weeks, the first arm will officially be used as a working prosthesis. Easton plans on continuing to do public talks and share his work with the world. "Inspiring younger people is my way of giving back," he says.
While many 17 years olds are focused on college, Easton has seen school as a hurdle. While he has a number of full ride offers, he doesn't know if he'll be attending college immediately.
Easton explains that he'll be "getting his senior year out of the way" and continuing to work on prosthetics. "Kickstarter proved that there is a market, so now I'm going to work to fill that need. Education systems have boundaries, and you don't always have to work within the boundaries of systems. You can do things to achieve your own outcomes, and that's what I'm doing."
Tags:
Education
,
electronics
,
Hack a day
,
Innovator
,
Instructables
,
Internet of Things
,
NASA
,
prosthetics
,
Robonaut
,
robotics
,
SparkFun
,
TED
,
TEDx
,
xbee