Every summer, Digi engineering managers come together for a week at our headquarters in Minnetonka, MN. Rob Faludi, Chief Innovator at Digi, thought this would be a perfect opportunity to put a new product, the XBee wifi, to the test and gain feedback on how our products can be improved for customers. So, on June 11, we had a Digi employee hackathon to see what projects we could come up with, gain a better understanding of our products' usability, and have some fun along the way.
Rob Faludi said,"Engineers learn best with their hands so I thought it would be fun for them to get to know a new product by actually using it to build something. We knew two hours wasn't much time to envision, design, build and test an entire M2M solution. They'd be pushing the boundaries, but I also knew how Digi's engineering managers are an astonishingly talented bunch. We were not disappointed!"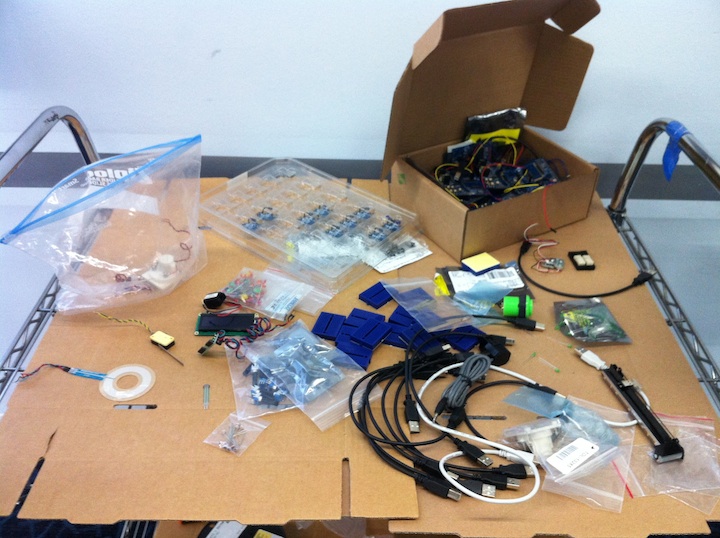 Unlike "traditional" hackathons, the teams worked on the projects from Tuesday afternoon until Thursday– mostly during their own time, after all we still had a lot of work to do. Then, each team was given three minutes to pitch their project. Submissions were judged by Digi's CTO, Joel Young.
Who won? Drum roll please…
The winning team was made up of Barbara Chryst, Ed Gordon, Barb Jordan, Mike Zarns, Brad Cole, Adam Dirstine and Liz Presson. It should be noted that due to creative differences, Don Schleede, defected from the team in order to pursue his own project.
The winning project was a system set up to detect anyone stealing food from the buffet table outside of the conference room. An infrared sensor was placed outside of the room in order to detect anyone lingering around the food table. Not only do the food thieves trigger a flashing red alarm in the conference room, but a picture of the perpetrator is taken and posted to a Twitter account.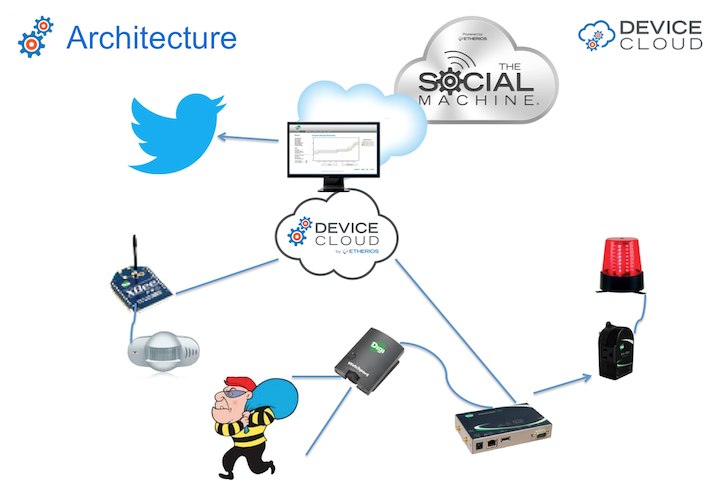 Other projects included a sensor in a coaster that measured the level of beer and temperature in a glass. The information was then tied to a web application that would tell the user the temperature as well as the amount of beer. An automatic "Mmmm beer" sounded when the temperature of a full beer was just right.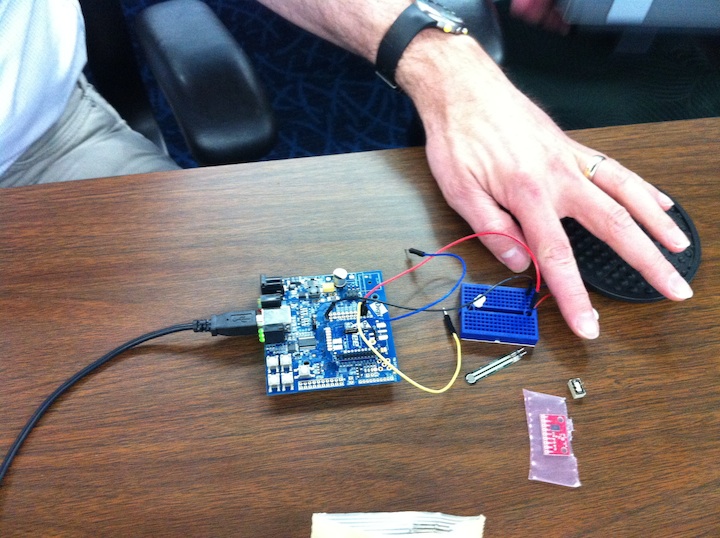 Dave Olson's project connected a car to The Social Machine. Once a car is test driven a post is sent to Salesforce and a chatter post is created. This may useful if an automobile dealer wants to track the number of times a car has been driven or even identify trends in sales data within Salesforce.
While some fun projects came out of the hackathon, we also learned a lot by putting ourselves in your shoes. We asked ourselves: what works, what doesn't and what can we make better?
Tags:
Device Cloud
,
The Social Machine
,
xbee