One of the best aspects of playing a role in the technology industry is getting to meet the innovative leaders who are making things happen. That's why we bring you this monthly series: Internet of Things Experts. These are the people that inspire and motivate us everyday, and we hope they'll do the same for you. Today, we bring you Joshua Broder, President of Tilson.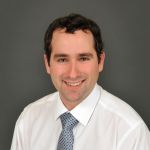 Josh Broder is the President of Tilson where he is responsible for strategy, leadership and business development. Prior to joining Tilson, Josh served as an Army communications officer, managing the network operations center that controlled the government communications network in Central Asia in 2005/6. He also serves on the Boards of Directors of the Gulf of Maine Research Institute and HealthInfoNet. Under his leadership, Tilson was awarded the 2010 Governor's Award as Technology Company of the Year and selected as #901 of America's fastest growing companies in 2012 by Inc. Magazine.
We were excited to explore Josh's thoughts on the current and future state of the Internet of Things and how he's become a key player in the industry.
The Internet of Things, specifically the industrial internet of things, is starting to get more attention from the media, businesses and the public. As awareness increases, the question about how connected objects can improve industries does too. We asked Josh about his thoughts on what is being called the next revolution in so called "machine to machine" communications. Josh describes the valuable impact as world-changing, "Allowing machines to talk to each other without human involvement will make things more efficient. In fact, it will define the rise of productivity in the postindustrial era. It's the next big value we'll get from the Internet."
This value is vast and will touch many industries, but Josh pointed out three areas that he is most excited about. He sees these as the "fast movers." These fast moving sectors are: smart grid, intelligent transportation and consumer facing mobile applications.
Why these sectors?
Smart Grid
Because, the safe and reliable delivery of power touches every consumer. "Power is a huge expense and has a large environmental impact, but is a critical enabler of virtually everything we do. Since we manage well what we measure well, getting better data about how consumers and grids behave is critical to getting the most from our grid. What makes grids smart is a telecom network that allows utilities and consumers to both have knowledge of how the grid is behaving, and take actions to control it." Josh explains that Smart grid technologies provide an opportunity to increase the efficiency of grid operations, reduce costs to rate payers and have a positive carbon impact. "Smart grid technologies are stretching what utilities and consumers can do with our current investment in generation, transmission, distribution, and mechanical control infrastructure. The rapid commoditization in machine to machine network technology enables us to deploy more sophisticated grid control systems at a cost with a near term return in investment for consumers."
This week @tilsontech our #wireless team is installing @digidotcom #cellular #modems for #smartgrid automation

— Joshua Broder (@joshuabroder) December 7, 2012
Intelligent Transportation
Josh points out that transportation is another sector that affects each one of us. Increasingly, traditional transportation is being transformed by networked information systems, improving safety, decreasing operating costs, and boosting efficiency. "We all utilize roads, trains and air travel, and our economic and environmental fortunes are closely tied to transportation efficiency. Our clients are increasingly calling for remote weather data collection, configurable signage, real time video and tolling automation. This requires significant network infrastructure, which, as prices fall and commercial networks grow, is increasing available to implement good public infrastructure policy."
Consumer Facing Mobile Applications
Consumer facing mobile applications are not new, but Josh and his team are seeing an increasing demand from smart phone users for wireless coverage and capacity in all of the nooks and crannies that we spend our days in– stadiums, shopping malls, hospitals and campuses so that they can use the increasingly rich world of mobile applications. "We are seeing an increase in cellular build outs of distributed antenna and small cell systems that provide coverage and data capacity down in those nooks and crannies where people gather and travel through."   
In addition to overseeing these deployments and running Tilson, Josh is the youngest ever recipient of the Portland Regional Chamber of Commerce's President's Award. He was recognized on MaineToday Media's inaugural Forty Under 40 list, which recognizes forty up and coming leaders, and was named to MaineBiz 2011 Next List.
With such incredible accolades, we had to ask Josh how he got to where he is today. His answer? "I was a liberal arts guy that encountered technology through a stint in Army during a time of unprecedented network deployment. After coming home from several years overseas, an entrepreneur took me under his wing during Tilson's formative years."
Having a knack for turning the complex into the simple, Josh gives incredible, tangible advice to those looking to get involved in the field of the Internet of Things, and in business in general. "Find problems that need solved. Solving problems for consumers can be incredibly rewarding if you get it right, but it's also extremely competitive. Business have problems that individuals can and should solve."
Would you like to connect with Josh? You can watch his TedX talk below and follow him on Twitter here. You also follow Tilson on Twitter to learn more about their work in the Internet of Things.
Tags:
Industrial Internet
,
intelligent transportation
,
Internet of Things
,
Internet of Things Expert
,
M2M
,
mobile
,
network management
,
smart grid
,
technology