Millions of people rely on steam heat. If you're one of them, you know that your place usually has one of two climates — tropical or Arctic. Admit it, you've opened the window in the winter to try to find a balance — we all have. But one company, Radiator Labs, is working to fix this problem forever. Not just for your own home, but large buildings too. How? They're using a combination of Internet of Things technology and thermodynamics to enable full control.
The team recently launched a Kickstarter to bring this much needed face-lift to steam heat
. The solution consists of The Cozy, which is an intelligent cover that is placed over your radiator, and a setup that allows you to set a room temperature via your smartphone. The enclosure collects the heat generated from the radiator and only releases heat as needed. This not only ensures a comfortable temperature in the room, but also uses energy in a more efficient manner.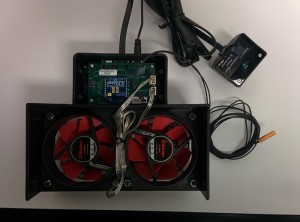 The project began about two years ago and was off to a quick start as the project won the MIT Clean Energy Prize in 2012. "This changed everything for Radiator Labs. We were able to access more buildings to test and develop the next generation of the Cozy." says Founder and Creator, Marshall Cox.
Since then, the team has spent time designing the Cozy. Radiator Labs used XBee modules to build large-scale Zigbee Mesh networks and ConnectPort X2e gateways to connect each sensor network to the Internet. Data is gathered and stored in Device Cloud. It's then sent to an application to set a desired temperature. Data can also be analyzed to monitor each sensor and identify poorly functioning radiators. The team is in the process of deploying a large rollout of the solution in residence halls at NYU and Columbia University.
The Kickstarter campaign will help Radiator Labs bring a WiFi-enabled design to market that will fit nearly any radiator. Funds will also go towards the development of an iOS and Android application that will allow users to control temperatures from their smartphone. So if you like comfortable temperatures and saving energy, support Radiator Labs on Kickstarter.
Tags:
Device Cloud
,
Internet of Things
,
Kickstarter
,
Radiator Labs
,
Smart Energy
,
X2e
,
xbee