We had a blast at this year's World Maker Faire in New York! We hope that you enjoyed it as well. We want to say thank you to everyone that stopped by our booth. It was great meeting face to face with our fellow XBee fans and makers.
New XBee Wifi Cloud Kit Wins Editor's Choice at Maker Faire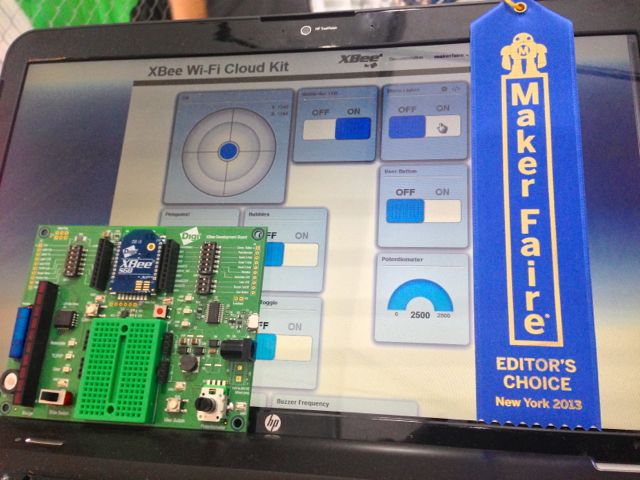 The new XBee Wi-Fi Cloud kit won an Editor's Choice at this year's World Maker Faire in New York. The kit makes building an internet connected device fast and simple. Users can even build custom online dashboards for data visualization and remote control of their devices. Keep an eye on our Twitter, Facebook Page, and Blog for more information as the official release nears.
Check out these articles for a recap of World Maker Faire 2013:
Maker Faire: When Will We Make Cars and Phones at Home? on the BBC
At Maker Faire New York City, DIY Movement Pushes into the Mainstream via The Verge
NASA highlights Asteroid Initiative at World Maker Faire from Red Orbit
Intel's Futurist Introduces Open Source 3D Printed Robot at Maker Faire on Gizmag
In case you missed it, you can sign up for the new X-CTU Beta here.
And keep an eye on the XBee Gallery for new projects we found at Maker Faire!
Tags:
DIY
,
maker faire
,
xbee