This Tech Tip is brought to you by Digi Applications Engineer Mark Grierson. It is Part 1 in a 3-part series focusing on the XBee Wi-Fi module.
Be sure to answer the XBee Puzzler at the end of this entry for a chance to win an XBee Wi-Fi Development Kit!
In this tech tip, we are going to see just how easy it is to send serial data through from one XBee Wi-Fi radio module to another.
Setup
In order to complete this exercise, you'll need:
2  XBee  Wi-Fi(S6B) radio modules
2 USB interface boards. These can be the development boards contained in the XBee Wi-Fi Cloud Kit, any XBIB-U or XBIB-U-DEV interface board, or any third party USB XBee interface board such as the Parallax XBee USB adapter board
PC (or Mac) running Next Generation XCTU
Procedure
Sending transparent serial data between 2 XBee Wi-Fi modules.
First we will need to connect 2 Wi-Fi Modules to a Wi-Fi access point that has access to the internet. For brevity, if you need assistance connecting you modules to an access point, please refer to the Quick Start Guide: XBee Wi-Fi Cloud Kit for assistance.
Note: For the purposes of this article, a basic understanding of XCTU is assumed. For specific help in working with XCTU please see the help section of the XCTU program.

Connect the radio modules to the PC using the interface boards and launch 2 instances of XCTU.
In each instance of XCTU connect to one of the XBee Wi-Fi modules:
Click on the Add Radio icon
Select the correct com port
Ensure data settings are correct (Radio default is 9600, 8, N,1)
Click Finish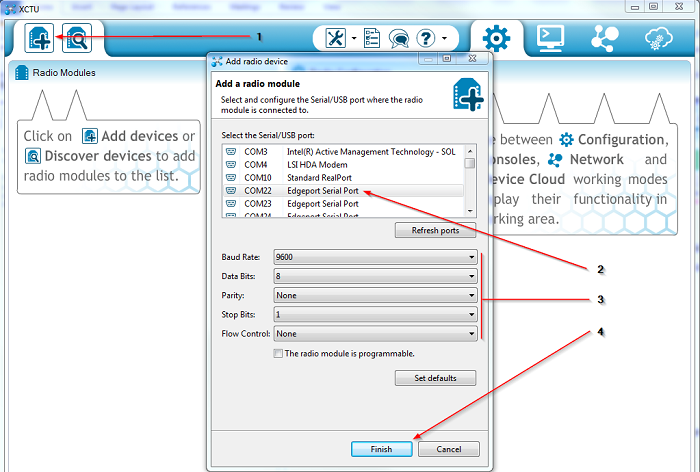 Now click on the radio module in each instance of XCTU to read its settings.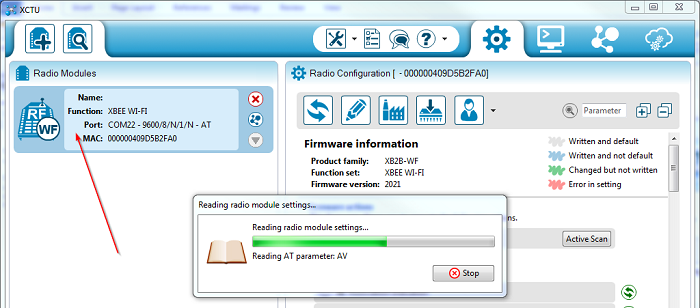 Once you have the 2 instances of XCTU running, verify that the radios have received IP addresses from your DHCP server and then address each radio's Destination IP address (DL) to match the Module IP Address (MY) of the other radio as shown below.

You will also want to ensure that the Device Options (DO) setting is set to 0. This will ensure that the serial data is not sent to the cloud.
Go to the "Consoles" mode of each XCTU by clicking the terminal icon at the top of XCTU.
Open the serial connection to the modules by clicking the "Open Serial Connection" icon on each XCTU instance.   The Icon will change to a connected status  and the background changes to green.
You can now type text directly into one of the console log screens and see it appear in red of the other consoles screen.

If you would rather send an entire string at once, this can be accomplished by creating a packet by clicking on the "Add New Packet" icon.   This packet builder also lets you select ASCII or Hex data to be sent.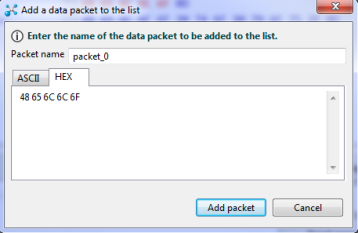 Using the packet builder, you can create a series of serial strings to transmit from the radio.
Summary
As you complete this exercise, it will become apparent just how easy it can be to connect your XBee Wi-Fi module to any serial sensor or device and have that data sent to any other device connected to another XBee Wi-Fi module. Of course this is just a simple example of how transparent serial data can be transmitted around an XBee Wi-Fi network. XBee modules have many more advanced features including a full API mode to allow your applications to efficiently move data to any IP addressable device worldwide.
In our next issue we will demonstrate sending data back and forth between a host connected to an XBee Wi-Fi module such as XCTU and a non-XBee network client application on a local area network. Until then, have fun experimenting with all of the varied capabilities of these remarkable radio modules.
XBee Puzzler
Which statement best describes how a passive high gain antenna works?
A high gain antenna adds energy to a radio to enhance its range.
A high gain antenna does not add or subtract overall energy to a radio transmission, but rather focuses or re-shapes the radiation pattern in a certain direction.
A high gain antenna removes energy from a radio's radiation pattern.
A high gain antenna has no effect on the range of a radio link
Submit your answer below. The deadline for entries is June 12, 2014. Three winners will be randomly selected from the correct submissions. Winners will be notified by email. Employees of Digi and its subsidiaries are not eligible for the prize drawing. Good luck!
This XBee Puzzler contest is now closed. The correct answer is: 2. A high gain antenna does not add or subtract overall energy to a radio transmission, but rather focuses or re-shapes the radiation pattern in a certain direction.
Tags:
xbee
,
XBee Broadcast
,
XBee Wi-Fi Cloud Kit
,
XBee Wi-Fi Module