The new XBee® Wi-Fi Cloud Kit brings the Internet of Things to the popular XBee platform.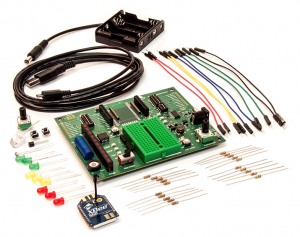 Built around Digi's new XBee Wi-Fi module, which fully integrates into Device Cloud by Etherios™, the kit is a simple way for anyone with an interest in M2M and the Internet of Things to build a hardware prototype and integrate it into an internet-based application. This kit is suitable for electronics engineers, software designers, educators, makers and innovators of all kinds.
The fastest and easiest way to explore and develop Internet-connected devices and circuits
Free, open-source application enables two-way communication and control with the development board over the internet
Fully customizable widgets for simple monitoring and control of connected devices
Free limited subscription to Device Cloud
You can order an XBee Wi-Fi Cloud Kit today. Click here>
Want to win a free XBee Wi-Fi Cloud Kit? Answer the XBee Puzzler at the end of our latest XBee Broadcast Tech Tip for your chance to win a kit!
Tags:
Device Cloud by Etherios
,
xbee
,
XBee Broadcast
,
XBee Wi-Fi Cloud Kit