Introducing Digi Foundations – An IoT Connectivity Management and Support Service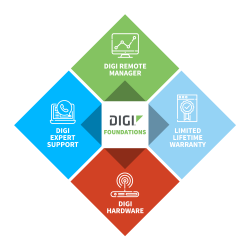 Digi has just announced Digi Foundations™, a comprehensive product and service package for IoT network managers. The package includes cellular hardware, a sophisticated device management application, 24×7 technical support and warranty protection. See the press release for details of the announcement.
To help customers create a more connected and cohesive digital ecosystem, Digi Foundations provides everything needed to deploy and manage IoT devices, no matter how large or complex your network may be.
You can now access, connect and analyze data collected from all devices, including those at the edge. Digi Foundations is fully compatible with a range of third party cloud platforms, including Amazon Web Services, Microsoft Azure and the Google Cloud Platform, for easy integration across the IoT stack. These capabilities give you the insights needed to improve business processes, react to changing operational needs and accelerate decision making.
Four key components comprise the Digi Foundations service and support package:
The trend today is toward holistic IoT solutions that synthesize the management of complex systems, provide clear insights into the condition and status of devices and assets – wherever they may be deployed – and create seamless integration between multiple tools, devices and platforms. See the Digi Foundations page for a complete overview of this packaged offering, or contact us to answer any of your questions.