IoT Applications for Precision Agriculture
Many industrial systems today are turning to the Internet of Things to improve processes, gain insights, perform automated tasks and reduce costs. Farming and ranching outfits are among the industries that can benefit. Examples include tracking and managing livestock, using sensors to detect conditions and gaining visibility into the effects of environmental factors on crops to make critical decisions.
With IoT devices gathering data and reporting on processes in real time, ranchers can more effectively decide such things as the best time to fertilize, when to make adjustments to irrigation schedules, and when it may be necessary to service equipment — any of which can dramatically affect the bottom line.
In this post we will explore some example precision agriculture IoT applications using Digi connectivity solutions such as cellular radio modules, gateways and other IoT devices that collect and transport data communications, as well as remote device monitoring and management tools.
Remote Management System for Grain Dryers
Nebraska Engineering Company (NECO) is a global company that specializes in manufacturing agricultural equipment such as high-value grain dryers, grain handling and aeration equipment for agricultural customers. Their customers are grain farmers who require high reliability grain dryers for successful operations. These grain producers need efficient solutions for handling, conditioning, drying and storing grains.
"A grain dryer may only run for two months, or even two weeks out of the year, but it's a critical part of operations. Our customers absolutely cannot afford grain dryer downtime," said Travis Toline, NECO Engineering Manager. "They need the capability to know the grain dryer's status at all times. At the same time, our customers can't afford to have someone at the dryer at all times to ensure it is doing what it is supposed to do."
If a grain dryer goes down, operations can come to a complete halt.
NECO's solution is a remote management system that supports effective grain drying operations. The system incorporates a Digi ConnectPort® X4 Gateway, which collects live data from a NECO Commander PLC Dryer Control and sends it to Digi Remote Manager built on Amazon Web Services (AWS) EC2. Digi Remote Manager then passes the information to NECO's custom web application, COMMANDnet.
This system enables farmers, dealers and NECO personnel to review the data and take appropriate action from any mobile device, wherever they may be. They can also receive alerts based on any condition parameters they choose to set.
Finally, NECO dealers and staff can support customers with remote troubleshooting. Whereas in the past NECO technicians often had to get on a plane and visit the customer sites to solve problems, find and address issues from their own headquarters, and install updates as needed.
IoT Solutions for Irrigation and Water Management
CropX
CropX, the world's most advanced irrigation software service, is focused on helping farmers reduce water consumption and energy costs and increase crop yields. They are also motivated to make a positive impact on water conservation. Using algorithms based on pattern recognition analysis, CropX's system delivers the exact amount of water needed to each part of the field.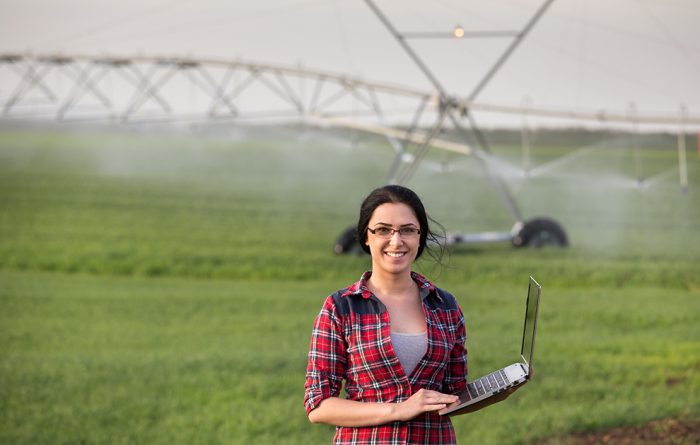 Instead of watering evenly, the CropX system algorithms thoroughly analyze the field, its soil structure and its condition to determine where water is needed. The service saves 10-20% of the water used in irrigation of large fields.
"This all happens in the cloud," said Isaac Bentwich, CropX CEO. "We needed an easy and secure way to get data from the ground to the cloud and into our application. Digi International offered everything—from the Digi XBee® DigiMesh® 2.4 radios to a Digi ConnectPort® X4 gateway with Digi Remote Manager built in. The end-to-end solution made our decision easy and our path to getting our solution to market faster than we ever imagined."
The Digi gateway curates the data and sends it over a secure connection to Digi Remote Manager. Digi Remote Manager then sends actionable information to CropX's smartphone and web application.
WiseConn
WiseConn is a California-based company that develops efficient water management solutions. Their flagship product, DropControl, helps farmers to maximize their harvest and optimize their irrigation use by precisely monitoring soil moisture, wells, valves, weather stations and other water systems.
Built using a mesh network of Digi XBee-PRO 900HP radios, the system captures data from low-power sensors deployed strate, and then transmits it to the farmer's control station. This effectively enables the farmer to see the status of their systems and make adjustments, regardless of their location across the farm.
DropControl consists of a wireless network for monitoring and control as well as a centralized web application. The network nodes are connected to sensors and actuators for monitoring weather conditions, soil moisture, and historical irrigation data. They also provide the connectivity needed to activate, deactivate, and calibrate the irrigation system's pumps, valves and other components. The nodes communicate with one another to send information to the central DropControl Gateway, which connects the network with a web server.
With 1,500 sites and 300 business operations in Peru, Chile, and California, DropControl is helping many farmers achieve better yields and improve the quality of their crops. At the same time, they can save up to 30 percent on their water consumption, and reduce greenhouse gases after installing the DropControl irrigation system.
---
---
IoT Solution for Field Monitoring in Agriculture
Ranch Systems is a California-based firm devoted to helping orchard and vineyard farmers to protect crops against the range of environmental conditions they may encounter, from temperature changes to wind, sun exposure and drought. Because the effects of these conditions can be dire, farmers must continually monitor their fields to ensure they adjust irrigation and fertilizer to optimize the quality and yield of their crops.
They found that grape farmers in the Napa and Sonoma valleys had few tools available to them for monitoring fields and taking measures to control the effects of crop conditions. While many had tried various approaches, they had given up on them because they were isolated systems that were difficult to use and maintain.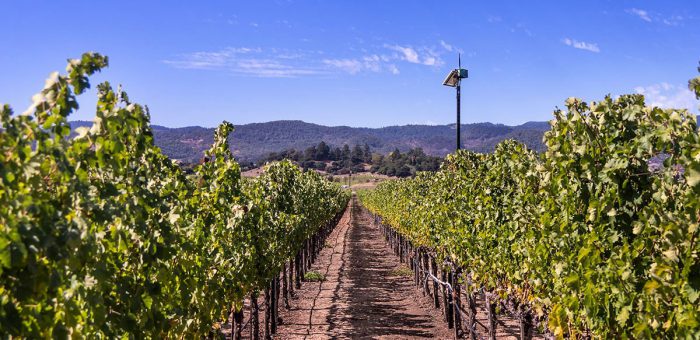 "Fruits like grapes mature according to a heat scale, making it essential to know the heat accumulation through the year," said Jacob Christfort, Ranch Systems founder. "And the plants must be irrigated within a very narrow band as you balance between yield and quality."
The growers needed a centralized solution to monitor and orchestrate fertilizing and irrigation.
Ranch Systems' resulting solution was RanchMaster, a management platform for tracking and managing six agricultural factors: weather and climate, soil-moisture, irrigation, tank/pond monitoring, remote cameras and alerting. The solution incorporates sensors and controllers with wireless connectivity – both Wi-Fi and cellular – utilizing the Digi XBee PRO radio module.
RanchMaster supports RF line-of-sight ranges covering most farm sites, and is designed to monitor conditions and instruct the farm's equipment to apply water and fertilizer, open and close tanks and valves, control pumps and engines, and send alerts to notify growers of dangerous conditions.
The company's growing customer base numbers over 1,000 worldwide as farming and ranching outfits turn to IoT solutions for precision agriculture and farm management applications.