NASA's Robonaut is quickly becoming a valuable addition to the International Space Station(ISS) . The robot is able to perform routine maintenance tasks and dangerous operations, freeing astronauts to focus on research and make the most of their limited time.  The second-generation Robonaut(R2), is currently deployed on the ISS.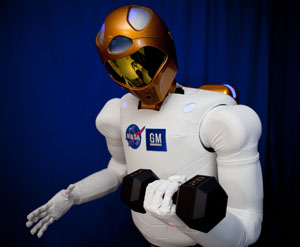 One problem still persisted with the Robonaut- wires were required for power and control. NASA reached out to Digi to help alleviate this constraint.  Using a Digi ConnectCore Wi-i.MX53 and a battery stored in its backpack, the Robonaut is now controlled over a Wi-Fi connection and all wires have been eliminated. This allows the Robonaut to be controlled by ISS crew members as well as from NASA Mission Control Center on Earth.
The ConnectCore module is already qualified for extreme industrial environments, but additional testing was needed to simulate the conditions of space. Independent testing for temperature, vibration, and shock were all performed to ensure the module could survive the trip to outer space.
The Wi-Fi connectivity brings about a number of benefits in addition to wireless control. Video can now be transmitted from the four cameras mounted on the Robonaut- two on the torso and two on the legs. Additionally, a number of  data points are logged and stored on an SD card, which can be viewed by the ISS crew and ground personnel to monitor the robot's performance.
Going forward, NASA hopes to make more upgrades to the Robonaut that allow it to assist crew members on space walks! And take a look at the video posted below, which is a nice overview of the Robonaut project.
Tags:
ConnectCore
,
NASA
,
Robonaut
,
Wi-Fi