Prototype Digi XBee and Other Wireless Projects with Tinylab
You might remember our post about the XBee product turned Indiegogo superstar last year–Plexidrone. Well, there's another XBee related Indiegogo campaign making headlines. Tinylab is a prototyping platform, developed by Bosphorus Mechatronics, simplifying IoT development with an all-in-one Arduino-based solution.
Tinylab reduces the need to stack multiple Arduino shields, pull out the breadboard and jumper wires, or hunt down that spare LTH sensor in your drawer. This flexible and extensive development board supports Arduino and other development environments, hosts 20 Digital I/O, and additional sensors come pre-attached. And, perhaps most exciting, is the support for a number of wireless technologies like XBee, Bluetooth, or Wi-Fi with the ESP8266 chip as seen in the graphic below.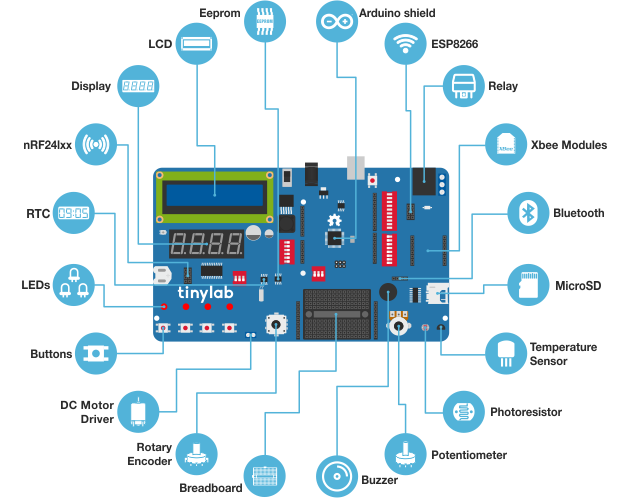 The Indiegogo campaign got off to a great start and Bosphorus Mechatronics quickly exceeded their goal of $25,000. The crew is shipping development kits to their campaign supporters in May and one level of support will even earn contributors a development kit that includes XBee RF modules.

Also, to demonstrate the board's capabilities, the team at Tinylab created an wireless lighting demo. The video is showing wireless control of a lightbulb with commands sent over XBee. Check out the video below.

If you are interested in learning more about the Tinylab prototyping platform, click here to visit the Indiegogo campaign and support! You can follow their updates on Twitter or visit the Bosphorus Mechatronics website here.