Internet of Things Expert: Rob van Kranenburg
One of the best aspects of playing a role in the technology industry is getting to meet the innovative leaders who are making things happen. That's why we bring you this monthly series: Internet of Things Experts. These are the people that inspire and motivate us everyday, and we hope they'll do the same for you. Last month, we interviewed Alicia Asín Pérez. Today, we bring you Rob van Kranenburg.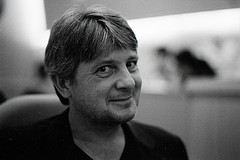 Rob van Kranenburg is a teacher and the author of The Internet of Things,  a critique of ambient technology and the all-seeing network of RFID. He is the Co-Founder of Bricolabs and the Founder of the IOT Council. He ranks number 6 on the top 100 Internet of Things (IoT) thinkers list on Postscapes.
We spoke to Rob about the inception of the Internet of Things. Here's his take on what he calls the next natural step of growth for the Internet.
Connected cars, smart cities, smart shopping– the Internet of Things is in every domain and every activity. Rob started our conversation by explaining that the Internet of Things is unavoidable, yet difficult to delineate. "The moment you want to break it down you get a list of too many things. And, it's not something that one can easily define– it can relate to body, home, car or city. It's everything and it's nothing. Yet you can see the Internet of Things happening, and to some it feels very natural, especially for the younger generation."
Rob explained that the Internet of Things is inherent to the world of the younger generation, because young people collect, utilize and share data everyday without thinking about it. "We can no longer look at young people and teenagers like they are the young people from 100 years ago. Most 14 and 15 year olds collect more data on a daily basis than politicians."
The ways in which the Internet has evolved impacts our everyday lives, yet little has changed in some traditional settings like the school system or in the way businesses are set up, Rob pointed out. "Even though the browser is only 19 years old, it is a key point of life. Pick a computer and open your stuff, it's the same no matter where you are– it makes you feel at home. We are building an interface as if it's there just for us."
Also, inside of this browser, the whole world works together. After all, the Internet as we know it would not exist if it weren't built in open protocols. Rob notes that although we experience all of this collaboration online, when you close your browser or put away your mobile phone, it ends. The world still functions with an older mentality—far less collaborating. "The whole generation that is growing up now realizes that collaboration is everything or there is no point. Young people realize that if they want the life they experience in their browser to exist in the real word they can make it happen."
This collaborative and open way of thinking must extend to businesses, which Rob explains, not everyone in traditional commerce is fond of. "Some are moving against it. The Internet of Things favors transparency because it brings about data. This transparency can cause trouble for governments, institutions and businesses. Young people are becoming harder to persuade—they no longer buy marketing."
Rob brought up the example of collaborative consumption– for instance, sharing cars. Car sharing is a problem for the automotive industry. "Also, in general, young people are not so into materialistic things," Rob claims. "Young people have a different way of thinking, and they are ready for a new kind of connectivity."
Because of this new school of thought, industries can no longer make money in the same ways that they used to. The new way of doing things focuses on real, organic relationships. Rob introduces the idea that industries need to try a new business model—leasing versus ownership.
"The Internet of Things creates a reality where end users and simple citizens are much more stakeholders. Businesses need to change their way of working: be slower to make money, be better at building relationships and create a value driven business."
While the Internet of Things is the next logical step and may be inescapable, Rob believes there are two major reasons that everyone, skeptics included, should appreciate its inception.
Climate Change
"One major reason for having the IoT is because we need a smart-grid. We need to get some efficiency in how we deal with energy." To do this, Rob explains that all of our things will have a unique ID, so they can all be addressed from the outside and can be controlled by a neighborhood server.
Co-Creating As Citizens
Since climate change seems like a too distant problem for many, it's not always an easy sell for the Internet of Things. So, the important element that the Internet of Things can bring to life is the ability to co-create as citizens. With the data coming from our bodies, we can learn a lot about ourselves and others. We can even be put in contact with others.
"For example, at the moment, the number of psychological issues that children are having are rising. The world's health organization has stated the psychological problems will be the next big wave of issues. So, trying to get quality information about ourselves and our behavior is a huge positive."
Co-creation of data may engender population sensors, noise sensors, how-do-I-sleep sensors and more. "These sensors will expose that we haven't been governed so well in the past hundreds of years." The information collected from sensors could be a new decision making tool for food, energy and all of the things that really matter in communities. "The IoT can be this global backbone and the rest would be local decision making on the ground."
"The Internet of Things is not something that's beyond us. There's a deep need in humans to be close to our things, friends and family as we've spread across the world to different cities. We are still in need of our tribes to feel safe and happy, and now we are able to do this as we build our own desktop that's in the cloud."
You can follow Rob on Twitter here and see his website here.