Digi will be at all four stops of Arrow's IoT Immersions event. We'll be traveling to Atlanta, Minneapolis, San Jose, and Boston over the coming months along with other leading tech companies sharing IoT technology and how it's changing industries. At the show we'll have three IoT demos to share with you. Here's a little bit of information on what we'll be up to during the event and where you can find us:
Mass Transit Bus with ConnectCore 6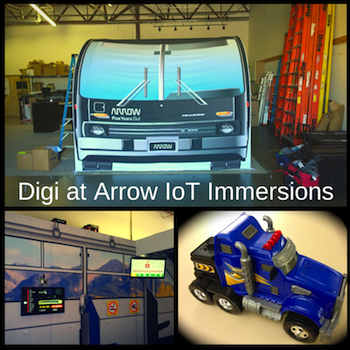 We're extremely excited to be a part of the Mass Transit demo, which showcases how IoT tech is already changing our transit systems. Inside the bus, you will find a Digi ConnectCore 6. The ConnectCore 6, based on the Freescale i.MX6 processor, drives multiple high definition monitors that provide bus location data as well as vehicle diagnostic information to the driver. Other companies that will be on board this mass transit demo include: Intel, Microsoft, Advantech, Microchip, Eurotech.
If one connected transit demo isn't enough, we have good news. We'll also be showing off Digi's Wireless Vehicle Adapter, aka WVA. This handy device opens up a local Wi-Fi network and streams real-time vehicle diagnostic information to a tablet. Stop by our kiosk in the Cloud Pavilion to give it a try. We'll have a tablet loaded with an Android application for you to play with.
Connected Health Care
We'll also be sharing how Internet of Things is changing healthcare. There's an enormous opportunity to use internet connected devices to improve outpatient care. We've built a connected blood pressure cuff, which enables caregivers to provide excellent service to patients even if they are outside the hospital.
The blood pressure device was modified with XBee, which enables communication to the cloud. Since the device is connected to the internet, caregivers can easily set up alarms so they're notified whenever an abnormal condition is met. You can try this demo out for yourself in the Medical Pavilion.
More Information for Arrow IoT Immersions
In addition to our demos, Digi CTO, Joel Young, will be a part of the Solutions Sessions alongside other technology experts. Specifically, they'll be discussing how the Internet of Things is impacting business, specifically cloud computing and connecting from the network's edge into the enterprise. Want to attend, but not yet registered? Head over to the IoT Immersions page to sign up.