XBee-PRO 900HP: 28-Mile LOS Range
Super Long-Range 900 MHz XBee-PRO® Module with DigiMesh®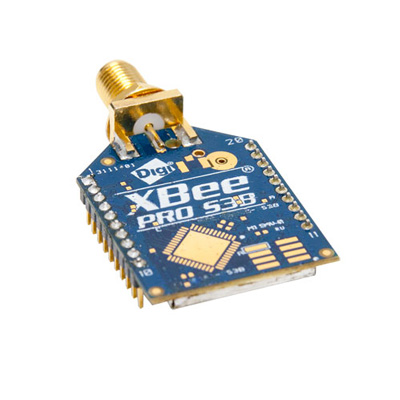 This little 1.3 x 1 inch XBee® radio packs a serious punch, with a 28 mile range in the 900 MHz frequency band. With interfaces that include UART or SPI, 15 digital I/O pins, 4 ADC pins, and 2 PWM outputs, the XBee-PRO 900HP is capable of wirelessly connecting virtually any device or sensor and transmitting data across long distances.
Companies have utilized this module to develop some amazing products, like intelligent wireless street lighting systems, mission-critical radiation detection systems at power plants, and even beacon systems used in firefighting suits.
 Key features:
Superior outdoor LOS range of up to 28 miles
Over-the-Air firmware updates eliminate costly "truck rolls"
Software-selectable channel mask for interference immunity
Advanced sleep modes include sleeping routers, pin sleep, cyclic sleep for minimal power usage
Pin-compatible with other XBee modules DigiMesh and point-to-multipoint networking topologies
Simplified AT command set or advanced XBee API accelerates time to market
XBee-PRO 900 HP modules and development kits are available now. To learn more, please download the datasheet, visit the product webpage or contact us for more information.
Have you built a cool wireless product using the XBee-PRO 900HP? Let us know about it!
Want a free XBee-PRO 900HP S3B Development Kit? Answer the XBee Puzzler at the end of our latest Tech Tip for your chance to win a kit!