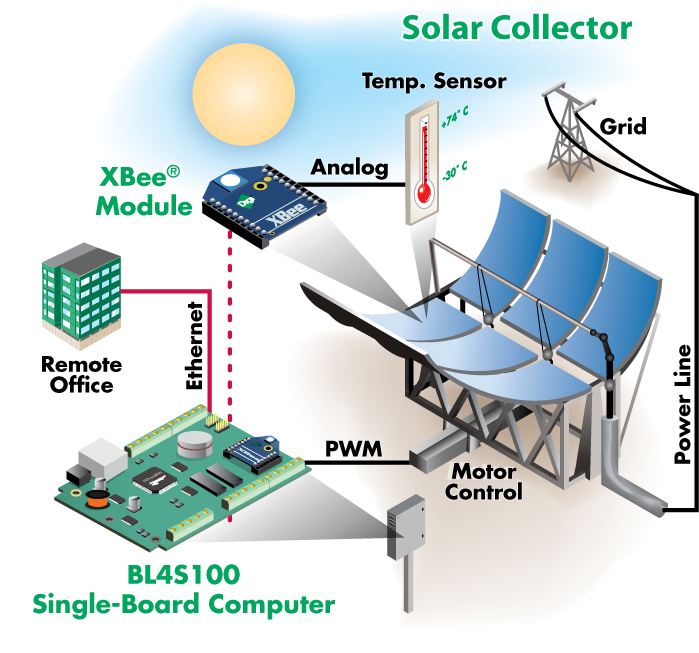 The BL4S100 is a low-cost Rabbit® 4000 microprocessor based single-board computer series that delivers ZigBee and Ethernet capability. On-board ZigBee RF modules offer mesh networking functionality to make networking easy to deploy and simple to maintain. With both Ethernet and ZigBee connectivity integrated onto the BL4S100, the series delivers a low-cost platform to design a ZigBee enabled Ethernet network.
Features
Rabbit 4000 microprocessor running at 40 MHz
ZigBee enabled
10Base-T Ethernet connectivity
20 digital I/O
3 serial ports
8 Analog inputs
Battery-backed real-time clock
Watchdog supervisor
Screw-terminal connectors
Design Advantages
Easily monitor and control ZigBee networks with feature-rich web applications using a Rabbit web server
Dynamic C® libraries provide ready support for AT and API commands
Full interoperability with other ZigBee PRO feature set based devices
Integrated hardware and software solution reduces overall development time and costs
ZigBee to Ethernet gateway functionality
Optional Rabbit Embedded Security Module offers secure data transfer with AES encryption, and SSL/TLS for embedded web security
The Rabbit RIO® Advantage
The BL4S100 series uses our Rabbit RIO chip to add a powerful I/O subsystem. The on-board Rabbit RIO device adds software configurable counter/timer blocks that can perform a variety of useful I/O capability, including event capture/counting, quadrature decoding, PWM and PPM generation, and edge or level based interrupts. This subsystem capability delivered by the Rabbit RIO device frees the microprocessor for control, data processing and communications tasks. Each BL4S100 board has 8 counter/timer blocks available in the I/O subsystem.
Applications
Monitoring and control for intelligent building automation
Asset tracking and management for commercial and industrial applications
Air quality monitoring
Energy monitoring and management
Rabbit's BL4S100 single-board computers offer a low-cost solution for control and communication that gets you through the development process quickly. The BL4S100 series is designed to support the rapidly increasing use of ZigBee connectivity for companies looking to deploy wireless networking. Digi's XBee® ZB ZigBee PRO RF modules are compatible with other manufacturers' devices using the ZigBee PRO compliant feature set, providing great flexibility in choices of nodes to include on the network.
The BL4S100 series integrates on-board functionality to support a wide range of applications. Analog inputs, general purpose I/O as well as serial ports, along with 10Base-T Ethernet connectivity provide design resources for both commercial and industrial applications.
Develop and debug programs using Rabbit's industry-proven Dynamic C integrated development environment. The Dynamic C IDE includes the popular µC/OS-II Real-time Kernel operating system, point-to-point protocol (PPP), FAT file system, RabbitWeb, and other select libraries.
Connect the BL4S100 series board to the PC using a USB cable and then debug using breakpoints, watch expressions and other features oriented toward real-time embedded systems programming. An extensive library of drivers and sample programs is provided, including a royalty-free TCP/IP stack for network and Internet communications. Rabbit provides full source code for most of the library routines.
Development Tools
The BL4S100 Tool Kit contains the following essential hardware:
Dynamic C CD-ROM, with complete product documentation on disk
Demonstration Board with pushbutton switches and LEDs. The Demonstration Board can be hooked up to the BL4S100 to demonstrate the I/O and capabilities of the BL4S100
USB programming cable, used to connect your PC USB port to the BL4S100
Universal AC adapter, 12 V DC, 1 A (includes Canada/Japan/U.S., Australia/N.Z., U.K., and European style plugs)
CAT 5/6 Ethernet crossover cable