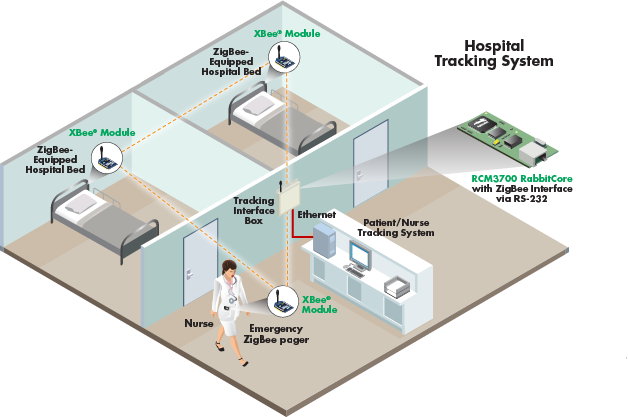 The RCM3700 RabbitCore is the lowest priced Rabbit® 3000 microprocessor based core module designed for Ethernet/Internet applications. The RCM3700 features 512K Flash / 512K SRAM or 256K Flash / 128K SRAM, 4 serial ports, and an extremely small footprint (2.95" × 1.20" / 75 × 30 mm). The RCM3710 is the least expensive of the Ethernet/Internet enabled Rabbit 3000 microprocessor based RabbitCores starting at $47, qty. 100. The development kit price is $299. Extensive demo programs and software application templates make it easy to get the RCM3700 up and running in record time.
This RabbitCore mounts directly on a user-designed motherboard with a single 0.1" (2.54 mm) 2x20 dual-row IDC header and can interface with all manner of CMOS-compatible digital devices. 33 digital I/O (shared with serial ports), power, and other signals are routed directly to the motherboard. Built-in low — EMI features, including a clock spectrum spreader, practically eliminate EMI problems, helping OEMs pass European CE and other regulatory RF emissions tests.
The RCM3700 is equipped with +5 VDC tolerant I/O, quadrature encoder inputs, PWM outputs, and pulse capture and measurement capabilities. The RCM3700 also features a battery-backable real-time clock, glueless memory and I/O interfacing, and low-power "sleepy" modes. An alternate I/O bus can be configured for 8 data lines and 6 address lines (shared with parallel I/O).
Programmed with Rabbit's Dynamic C® integrated development environment, the RCM3700 executes math, logic, and I/O exceptionally quickly. The Rabbit 3000 microprocessor, RCM3700, and Dynamic C were designed in a complementary fashion for maximum performance and ease of use in embedded systems. Rabbit's industry-proven Dynamic C development system is a C language environment that includes an editor, compiler, and in-circuit debugger. User programs can be compiled, executed, and debugged using Dynamic C and a programming cable-no in-circuit emulator is required. An extensive library of drivers and sample programs is provided, including royalty-free TCP/IP stack with source code.
Key Features
Powerful Rabbit 3000 microprocessor
Low-profile footprint: 2.95" x 1.20" x 0.88" (75 mm x 30 mm x 22 mm)
Up to 512K Flash / 512K SRAM
33 digital I/O, alternate I/O bus
Up to 5 serial ports (IrDA, HDLC, asynch, sync, SPI)
Design Advantages
Low-cost solution
Ready-made platform for fast time-to-market, up to 3 months design integration timesavings.
Compact size
Dynamic C® development environment for real-time development and debugging
Exceptionally fast performance for math, logic, I/O
Applications
Remote Data Logging
OEM Serial to Ethernet products
Designing with RabbitCores
The RabbitCore family of microprocessor core modules is designed to facilitate rapid development and implementation of embedded systems. RabbitCores are powered by high-performance 8-bit Rabbit microprocessors with extensive integrated features and a C-friendly instruction set designed for use with the Dynamic C® development system. The RabbitCore mounts on a user-designed motherboard and acts as the controlling microprocessor for the user's system. Small in size but packed with powerful features, these core modules give designers a complete package for control and communication.