XBee & XBee-PRO DigiMesh 2.4 embedded RF modules utilize the peer-to-peer DigiMesh protocol in 2.4 GHz for global deployments. This innovative mesh protocol offers users added network stability through self-healing, self-discovery, and dense network operation. With support for sleeping routers, DigiMesh is ideal for power sensitive applications relying upon batteries or power harvesting technology for power.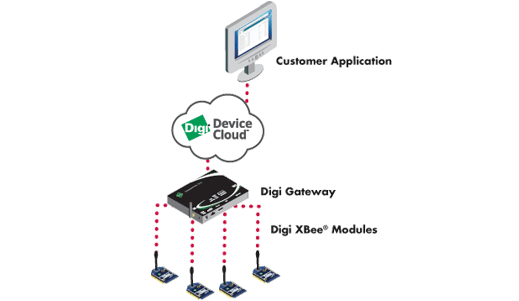 XBee & XBee-PRO DigiMesh 2.4 deliver end-point device connectivity with a globally deployable 2.4 GHz transceiver. These modules use the innovative DigiMesh networking protocol. This innovative, peer-to-peer protocol offers users added network stability through self-healing, dense network operation and support for sleeping routers, extending the operational life of battery dependent networks.
XBee modules are ideal for low-power, low-cost applications. XBee-PRO modules are power-amplified versions of XBee modules for extended-range applications. Part of the XBee family of RF products, these modules are easy-to-use, share a common hardware footprint, and are fully interoperable with other XBee products utilizing the same technology. Module users have the ability to substitute one XBee for another with minimal development time and risk.
XBee products are part of Digi's unsurpassed range of rapidly deployable Drop-in Networking solutions. They offer users seamless wireless communication between devices, including adapters and gateways. XBee adapters deliver wireless connectivity to electronic devices in wired networks.
XBee DigiMesh 2.4 hardware note: The XBee and XBee-PRO DigiMesh 2.4 share hardware with the XBee and XBee-PRO 802.15.4 modules. As a result, these modules can be "converted" from one platform to another by loading different firmware onto a given module. Contact Digi Support for details.
Featured Models/Part Numbers
North America:
International:
North American/International (except Japan) DigiMesh 2.4 Development Kit w/ 2 XBee and 2 XBee-PRO modules
View details
XB24-DMDK

XB24-DMDK

BUY ONLINE
Contact Us