XBee and XBee-PRO ZB ZigBee modules provide cost-effective wireless connectivity to devices in ZigBee mesh networks. Utilizing the ZigBee PRO Feature Set, these modules are interoperable with other ZigBee devices, including devices from other vendors†. Programmable versions of the XBee-PRO ZB ZigBee module make customizing ZigBee applications easy, even without wireless design expertise.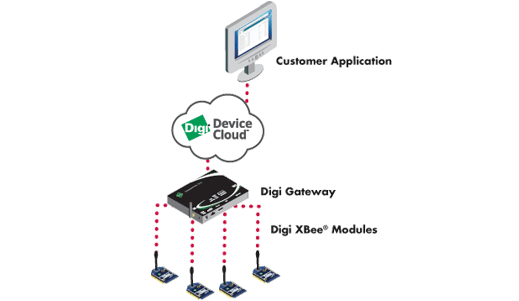 All Digi cellular gateways, routers, devices and components have out-of-the-box compatibility with Device Cloud by Etherios™. Device Cloud provides a robust suite of network management tools including authentication, configuration management, account management, asynchronous updates and alerts, group and individual software updating, network data storage and gateway programming.
Device Cloud empowers IT, network operations and customer support organizations to conquer the challenges of managing the vast array of cellular equipment in their device networks. Network managers can remotely configure, upgrade, monitor and troubleshoot remote devices, and create applications that improve productivity, speed and efficiency.
Featured Models/Part Numbers