How to Stay Ahead of the 3G Network Sunset
Since the first analog systems launched in the 1980s, cellular technology continues to rapidly evolve with the next evolutionary step in network technology. Today, mobile network operators are deploying Long-Term Evolution (LTE) networks and phasing out legacy 2G and 3G networks. With the 2G/3G network sunset underway, it's incredibly important for companies to consider an Internet of Things (IoT) strategy based on LTE technology or LTE technology with support for 2G/3G fallback. In order to stay ahead of the 3G network sunset, we must first think about how this will affect us to better prepare for the migration.
Additional articles in our cellular network migration series:
What is 3G sunsetting?
3G sunsetting means that a mobile network operator (or carriers) shuts of the cellular infrastructure required to operate communication devices based on 3G (UMTS, HSPA, EVDO) technology.
Why do carriers do this?
In many cases, the migration away from 2G/3G is driven by the desire of mobile network operators to repurpose spectrum for faster and more efficient 4G LTE devices. It is also more cost-effective to operate a LTE network than a 2G or 3G network, because more devices can share the available spectrum. Prior to sunsetting a network, mobile network operators may regionally repurpose spectrum or tune their radio access network. In these cases, your device may lose connectivity ahead of the 3G sunset date.
Do all carriers have the same 3G sunset date?
The short answer is: no. However as cellular technology continues to evolve and consumers continue to demand faster, more reliable, and cost-effective connectivity, carriers in the cellular space plan to migrate to fourth-generation LTE technology to free up available wireless spectrum.
When will 3G be phased out by my carrier?
The 2G/3G turndown is coming! AT&T has already shut down its 2G network, while Verizon has publicly stated, "No new 3G 'light ups' after June 2018" – with a complete 3G shutdown by the end of 2019. Other carriers have not made public announcements yet, but may share information under NDA. Lastly, many carriers are preparing their 5G networks, which will also use the same wireless spectrum.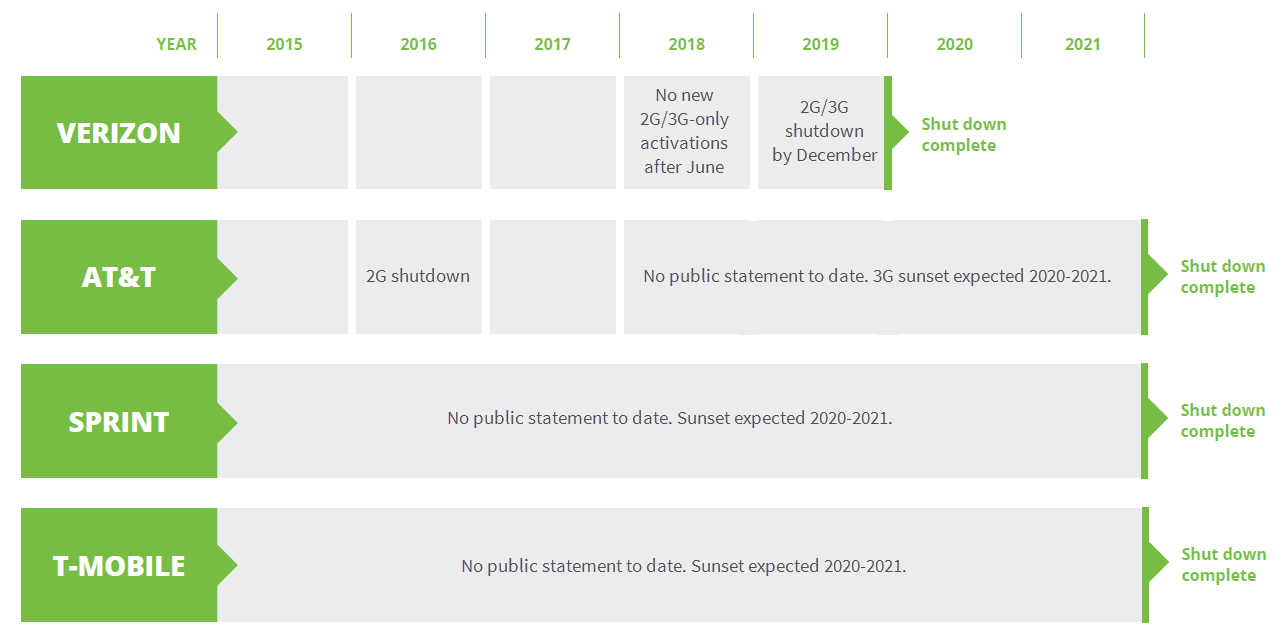 Key Takeaways
Don't get left behind with 2G/3G – shutdowns are imminent.
Leverage 4G LTE today – from LTE for IoT to Gigabit LTE.
Digi has the right products for your mission-critical applications.
Digi is here to help you!
With so many changes happening and so many choices to consider, from 2G to 3G to 4G LTE and everything between, it makes selecting the right technology for your product challenging. Long-term transition plans and migration strategies are vital for network engineers and administrators to capitalize on the advantages of future networks like 4G, 5G, and LTE.
---
Looking for Network Migration Support?
Digi International can help with your network transition, from expert LTE consulting to networking products and technical support.
See our 4G LTE resource page for more information and a free 4G migration guide.
---