What's New with the Digi XBee3 Smart Modules?
We are excited to announce the new Digi XBee3 Series of smart modules. Digi XBee3 builds on industry-leading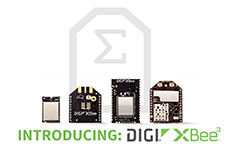 embedded technology, offers design freedom with easy-to-add functionality and flexible wireless connectivity. The new Micro form factor allows customers to shrink their devices with new low-power requirements making it ideal for battery-powered applications, portable and remote devices. It brings a new era of flexibility to mesh networking and new LTE cellular technologies enabling a higher level of abstraction without the lead times and complexities of chip-down designs. A few advanced features include:
Micro size – a reduced size, weight, and power consumption.
Micro-Python-programmable – RF connectivity for short range or Low Power Wide Area Network (LPWAN).
Design flexibility – RF and cellular options.
Furthermore, builders of Internet of Things (IoT) devices require more options for connectivity as well as increased computing power for processing data at the edge of the network. Digi XBee3 Series includes ZigBee 3.0 for mesh networking and Digi XBee3 Cellular with the latest LTE technologies like LTE-M and NB-IoT, are all available in the compact and pin-compatible form factor.
One socket allows you to connect to IoT networks around the globe. With the authentic Digi XBee footprint, and end-device certifications, allowing you to future-proof your design and know that Digi has you covered for new wireless technologies as they emerge. From multiple global protocols and expanded programmability to the Digi TrustFence® security framework and future-proof form factor, Digi XBee3 gives you even more options for connectivity.
>>See more about these new smart edge IoT modules and modems here.