Life science is intersecting with the exponential increase in computing power, and as President and Managing Partner of Google Ventures (GV), Bill Maris sees great opportunities for new technology in the field. Today, Maris addressed a crowd of entrepreneurs and change makers at one of Chicago's greatest startup and technology hubs, 1871.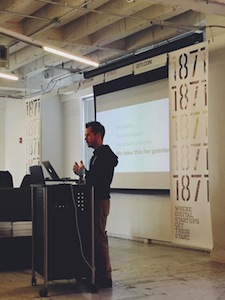 As we see with our customers' Internet of Things deployments, every sector, from life sciences to retail and transportation, exponential increases in computing capacity open doors for advances that few see coming.
Maris summed up how technology has grown over the last 20 years: "What is 320,000 times better than it was before? Tech."
As Maris pointed out, today we all have a device in our hands that connects us to the sum of human knowledge. And, the capacity of computer technology is on an exponential curve. In a world where you're on an exponential curve, everything changes very quickly.
Pulling a page from Slack Founder Stewart Butterfield, Maris shared two photos to make his point. First, he showed a photo of the crowd at the 2008 presidential inauguration. How were people documenting the experience? With cameras— cameras with film. Fast forward to 2012, and how did people document that event? Digitally, with their phones. Each photo shows thousands of people with cameras and phones respectively. The pictures, side-by-side, paint the radical change that happened in less than four short years.
What does this have to do with technological advances in life sciences?
Everything, because the field of life sciences is currently experiencing this exponential curve, as it somewhat has in the past.
In the 1800s, Bloodletting basins were used to collect blood that was taken from a patient to cure or prevent illness and disease. When the basin was full, the patient was thought to be treated. In the 1950s medical professionals used the "iron lung," a negative pressure ventilator. Today, the negative form of pressure ventilation has been entirely replaced by positive pressure ventilation or biphasic cuirass ventilation.Then, in 1957, the first chemical synthesis of penicillin was completed.
Today, exponential curves are steeper than ever. The Human Genome Project is a great example. In 2002, people thought it was impossible to sequence the genome to 100%. Here's how the evolution looked: 1990: 0%; 2002: 1%; 2003: 100%.
So, what does the world look like in 2034? "Think about those exponential curves, and apply that math. This could mean diagnoses before you know you're sick. You don't change the oil in the car only when the car breaks down," Maris said.
A major theme of Maris' talk about the future warned that we should also look to make sure that technology is distributed and that its creators and adopters consider access. In our work, we've seen companies use technology as a means of creating access— a project by Orange Business Services and Almerys, Cardiauvergne, being a great example.   
In today's world of exponential curves, what's your business doing to ensure your evolution? How are you using computing power to impact patient and customer outcomes and revenue? We saw Maris' talk as an invitation to beg the question. We'd love to hear about your innovations in the comments section below.
More on the innovations of Digi customers around the globe.
Bill Maris founded Google Ventures in 2009 and oversees all of the fund's global activities. GV is one of the most active investors in the world, with approximately $1.6 billion under management, more than 250 portfolio companies and offices in Mountain View, San Francisco, Boston, New York, and London. The fund's early track record includes investments in pioneers like Uber, Nest, DocuSign, and Cloudera; IPOs like Foundation Medicine and RetailMeNot; and exits to industry leaders like Facebook, Twitter, and Yahoo.
Photo credit: Hyde Park Angels