Sara Ohrvall, Senior Vice President of Bonnier R&D and Vincent Horn, Chief Buddhist Geek at Buddhist Geeks are holding a session at SXSW today– Closer to One: Buddhism and the Internet of Things.
Ohrvall and Horn will be talking about how as we begin to network more objects, we are building the "interconnectedness of all things" that eastern philosophers have talked about for millennia.
The session will dive into the question, "Could all this connectedness make us better people?"
How does the Internet of Things work to help us lead better lives? What about healthier lives?
Technologies exist that allow us to "connect our bodies," for example, exercise tools like RunKeeper, Wii-Fit and FitBit.
But, what about on a larger scale? How can the Internet of Things help us solve health issues world-wide? How can the Internet of Things help us understand and better our food system?
One peek inside the food industry will have you surprised and most likely frightened at the lack of general information on where our food comes from, how fresh it is and the sustainability of our entire food system.
The sustainability of the food system, or the ability to ensure that everyone has enough food to live a healthy life, is known as "food security."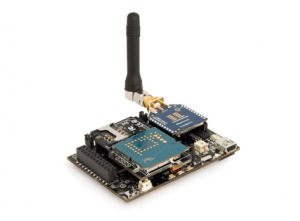 Digi International's® client, Libelium, is using wireless sensor networks to monitor food sustainability. These wireless sensor systems, Waspmote sensors, can be used to monitor and control the whole food cycle– from food production and harvesting, transportation and distribution all the way to consumption and even bio-waste outputs– pretty amazing.
Linelium explains how food insecurity impacts the world, "Food insecurity continues to be a major development problem across the globe, undermining people's health, productivity, and often their very survival. Use of Waspmote sensors can assist in strengthening the collective understanding of how to protect and manage food systems."
Food Production
By combining sensors such as humidity, temperature, and light, the risk of frost can be detected.
Monitoring can ensure prevention of plant diseases or manage watering requirements based on soil humidity. This helps to control conditions in nurseries and to closely monitor high performance or delicate crops, such as vineyards or tropical fruit, where the slightest change in climate can affect the final outcome.
The information can also help to determine the optimum conditions for each crop, by comparing the figures obtained during the best harvests.
Distribution
The technology integrated in Waspmote (GPS, sensors and clock) makes it possible to control, in real-time, conditions of merchandise.
Waspmote can detect and store environmental samples during the product's transport to determine if  it has been exposed to high temperatures or whether it has been contaminated during the journey.
A GPS ensures that the product can be located at all times.
In-Store
Waspmote can operate as a smart label on merchandise containers. It can transmit through Zigbee wirelessly to gather product information, number of units, batches, etc.
It can also be used to detect expired food or even to alert a customer that a specific product contains food not suitable for him or her because of his or her allergies.
Food waste and disposal
After high temperature days and severe weather events, food wastes can be a source of disease and contamination. Waspmote sensors can monitor public disposal areas or high risk areas.
The connected technologies that the Internet of Things offers will continue to change the way we live our lives. The Waspmote is a great example of how this change can improve the quality of one of the most important aspects of life, the food system. We are looking forward to hearing Ohrvall and Horn's perspective at their session today at SXSW, and we thank them for covering this inspiring topic.