Upcoming 2G and 3G Global Cellular Network Sunset Dates
How to Get Ahead and Stay Ahead of the 2G/3G Network Shutdowns
Critical 2G/3G cellular network shutdown dates are quickly approaching in the U.S. Additionally, sunset schedules are affecting organizations worldwide, and a number of deadlines now loom on the horizon as network operators roll out new LTE networks. Since the rollout of 5G for widespread use in commercial and industrial applications will take 5 to 10 years, now is the time to create an action plan for network migration to LTE, which will be well-supported long into the 5G era.
As cellular carriers are moving away from legacy networks and customers delay upgrades, it makes the 2G/3G sunset a significant transition for many companies, because these networks are still the most used technologies for IoT devices.
The transition creates a number of challenges because it is not a linear process across networks or carriers, and it differs by region. For example, depending on where you are in the world, 2G connectivity may outlast some 3G networks, especially in Europe. However, with increasing 4G proliferation and 5G already being rolled out in some regions, carriers' focus has been shifting away from GSM and UMTS networks for quite some time now to free up frequencies for the new technologies.
---
Looking for Network Migration Support?
Digi International can help with your network transition, from expert LTE consulting to networking products and technical support.
See our 4G LTE resource page for more information and a free 4G migration guide.
---
Worldwide 2G and 3G Cellular Network Shutdown Dates
The following are some of the key anticipated cellular carrier 2G/3G sunset dates. It is important to note that there is no guarantee of service beyond these dates.
United States Cellular Carrier 2G/3G Shutdown Dates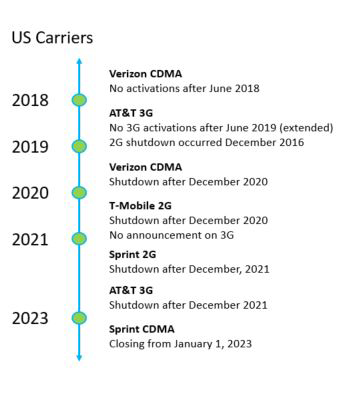 Canadian Cellular Carrier 2G/3G Network Shutdown Dates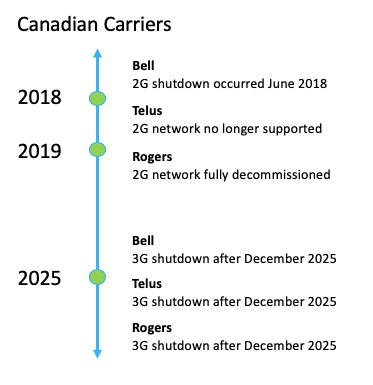 Australia Cellular Carrier 2G/3G Network Shutdown Dates
APAC Cellular Carrier 2G/3G Network Shutdown Dates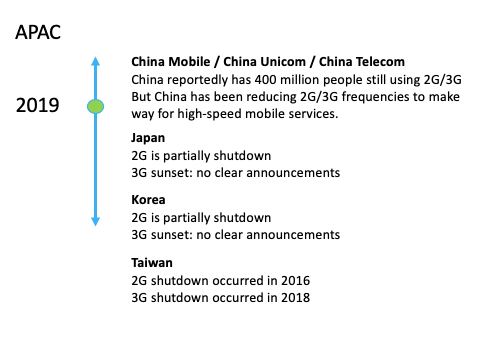 European Cellular Carrier 2G/3G Network Shutdown Dates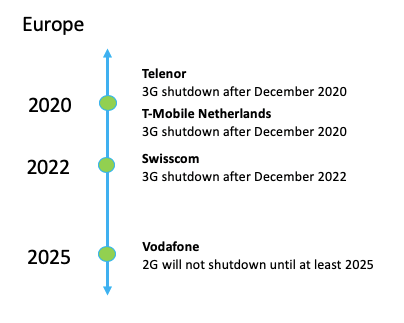 How to Prepare for the 2G/3G Network Shutdowns and Beyond
Starting from the shutdown dates, 2G and 3G devices will no longer connect to the network and will cease communicating within your organization. Therefore, many are asking how to upgrade legacy communications devices beforehand to ensure continued business operations.
With 2G/3G sunset already underway, and 4G LTE available worldwide, the time to plan your device migration is now. Our video shares more information about "4 Steps to 4G" planning.
To start your LTE migration planning, you will need to assess your applications and affected devices. Determine your current and projected use cases and how they may be impacted by new LTE technology. Be as forward thinking as you can to answer these questions along with any larger business situations you need to solve with the new network technologies.
Technology Considerations for Network Migration
Here are some key business and technology questions to analyze:
Bandwidth: Does data need to be transferred in busts or as a steady feed over time?
Data Plan: Do you need data in real time, or can a delay be tolerable; which plan is more economical?
Connectivity: Will communications be localized across a plant or campus…or across a city or country?
4G or 5G: Weigh the pros and cons of 5G; keep in mind 4G will be evolving into 5G over time
Related resource: How to Pick the Right 4G LTE Technology for Your Business Needs and Applications
Business Planning Considerations for Network Migration
To help you prepare for a seamless transition to LTE networks, think about these issues specifically:
Active devices: How many 2G and 3G devices are currently active in the field?
Budgeting: What is it going to cost to transition these devices to LTE?
Timeline: How long will a 2G/3G-to-4G migration take?
Application requirements: What are my application connectivity needs?
Related resource: How to Ensure a Successful Migration from 2G to 3G and 4G LTE
Supporting Services for LTE Network Migration
Be sure to keep your IoT asset data flowing before devices on 2G/3G networks get shut down. Daily operations can continue seamlessly with successful planning, design and deployment of the right solution. When your teams are not equipped to meet the demands of a network migration project, it may be time to partner with a solution provider that can support your team at any phase.
Digi solutions include rugged purpose-built routers for any industrial application or demanding environment, the software tools to help better manage the transition, and professional services and technical support. The Digi LTE Migration Services team is standing by to not only help you plan your migration strategy, but to provide resources and product recommendations, and even implement your LTE solution, if needed.
Related resource: How to Stay Ahead of the 3G Network Sunset
Long-range Planning for 5G Networks
With 2G shutdowns already occurring and 3G network shutdowns coming soon, migration strategies are vital for network engineers and administrators to manage the transition to 4G LTE and 5G. Your business may be wondering if it is time to factor in 5G in your long-range planning as well. Note, however, that it is important not to wait for 5G networks to be ready for deployment, as full 5G deployment for commercial and industrial IoT applications is at least 5  years away, after the 2G/3G shutdowns are complete.
The good news is that forward thinking providers like Digi International are building 4G products for critical infrastructure and industrial applications today that will migrate seamlessly to 5G when the time comes, without having to replace deployed devices. Turn to Digi for the routers, software and planning services you need to make your LTE migration a complete success.
Related resource: What is 5G? Evolution and the Next Generation