IoT Applications in Retail
IoT applications in the retail space are varied, and include everything from retail kiosks, to digital signage, lottery ticket applications and vending machines. Technology advances of recent years support these applications, as well as new innovation in how to manage retail transactions with the Internet of Things. The demand for IoT solutions throughout the retail landscape is fueled by a critical need for secure transactions, efficient access to products and services and improved customer service.
In this blog post, we cover some examples from Digi's customer stories describing IoT applications in retail, and provide information about how retailers can enhance operations and customer satisfaction with IoT technology. You can find more application examples, by industry, in the Customer Stories section of the Digi site.
Smart Delivery with XBee Wireless Modules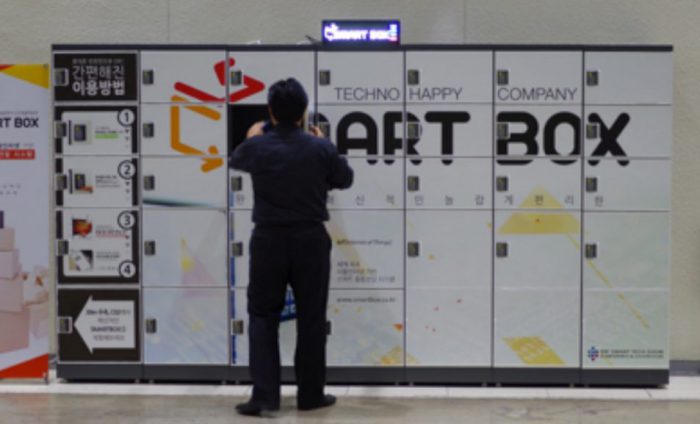 Supply chain applications have been making use of the Internet of Things for years, and the number and variety of use cases are still on the rise. Pack-and-ship, tracking and distribution services can massively gain in efficiency using IoT. And the boom in online retail in recent years has made it an imperative for this industry to rapidly adapt to new technologies to thrive and scale.
The SmartBox company, based in Seoul, Korea, manufactures lockers for unattended parcel delivery. The world's first IoT-based delivery locker makes it possible to securely deliver packages so they can only be accessed by the intended recipient.
To use the box, the delivery person enters a mobile number, and delivers the parcel to the box. The recipient receives an SMS message with a password enabling secure access to the locker.
The technology behind the system is a Digi XBee® module that provides the connectivity and intelligence to enable single-use codes, as well as a Digi XBee® gateway that carries backhaul traffic to the SmartBox operations center for monitoring and maintenance. The XBee Gateway is also responsible for sending the SMS notifications to the delivery recipient. You can read the complete case study here: Digi XBee Modules and Gateways Help Smartbox Transform Package Delivery with Networked Lockers.
---
---
Smart and Healthy IoT in Food Service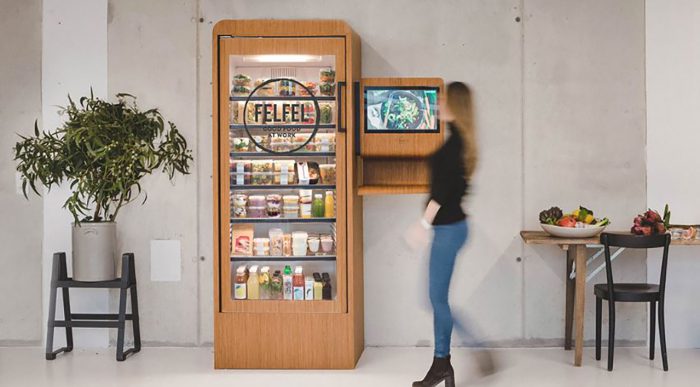 Food service is another up and coming driver for new applications in IoT. In fact Digi's SmartSense business unit is experiencing rapid growth as more restaurants, schools, supply chain services and hospitals recognize the critical need to maintain perishables at the correct temperatures for compliance and human health.
A great example of a retail food service application is FELFEL's refrigerated point-of-sale food kiosks for the workplace. Based in Switzerland, FELFEL set out to "free people from mediocre food at work." The company developed an innovative solution that enables office workers to access healthy and delicious meals at affordable prices, whenever needed. The solution is housed in an attractive lighted wooden case that can be placed anywhere throughout the workplace.
The technology at work in the FELFEL POS refrigerated systems is a Digi ConnectCore® 6 single-board computer (SBC) with a 4G LTE connection that powers an Android application. The application controls the token-based POS transactions as well as the refrigerator locks.
You can read the full story here: FELFEL Transforms Workplace Meals with Kiosk Refrigerators, Powered by Digi ConnectCore, Bringing Ingenious Delivery of Fresh Food for Staff.
---
---
Smart Greeter Holograms to Enhance Customer Engagement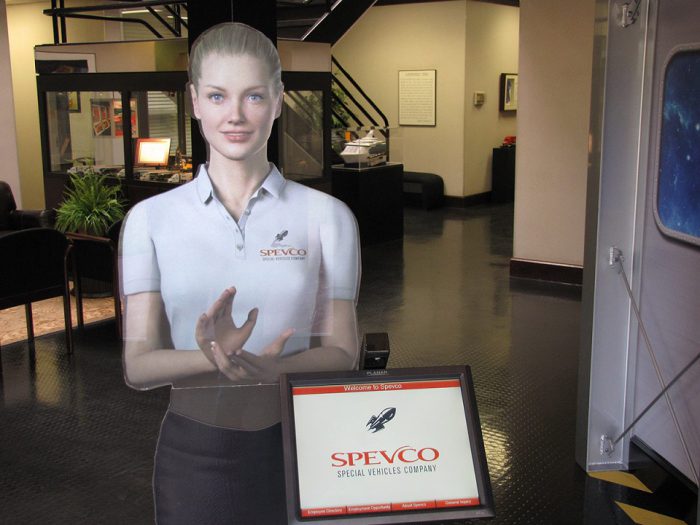 If you visited our booth at CES 2018, perhaps you met our customized hologram greeter, supplied by our customer, PRSONAS. She did a great job of sharing information about our Digi cellular routers with booth visitors.
A holographic greeter can act as a virtual sales rep for retail businesses, and is an excellent conversation piece as well. PRSONA's innovative solution ties together a range of technologies, including artificial intelligence and computer-generated images to create an interactive customer service hologram.
In developing the solution, PRSONAs found Wi-Fi to present technological challenges, depending on the connectivity available at a customer site, as well as issues with firewalls. They turned to Digi International for a cellular solution that would provide uninterrupted enterprise-wide connectivity. Digi's TransPort WR11 router provided the solution for cellular connectivity.
You can read the full story here: PRSONAS Delivers Interactive, Self-service Holograms to Spur Customer Engagement Using Digi Connectivity.
IoT Enabled Digital Signage Solutions
Digital signage solutions have been evolving in recent years, as IoT technology provides the robust connectivity needed to support more sophisticated signage applications. LEIGHTRONIX is one company focused on innovation in digital signage solutions. In an interview, David Leighton, President and CEO of LEIGHTRONIX, shared the challenges that needed to be overcome. "Years ago, when a company had digital signs in remote locations, they'd have to mail out USB drives to update the signs. Of course, one problem is that they required an operator to plug the drive in and manually update the sign information. About half the time, those updates weren't applied in a timely manner – or at all. And another issue is that those USB updates were sent in a completely insecure way, which presents particular risks in certain market segments."
In their quest for efficient management of digital signage, they turned to Digi. Their solution first utilized Digi industrial grade cellular routers, which are hardened devices designed to manage environmental challenges. The company then turned to  Digi XBee Cellular modules for robust connectivity, which are also designed to operate under challenging circumstances. Today, with the Digi XBee Cellular modules embedded in its digital signs, LEIGHTRONIX can offer a drop-in, end-to-end solution to customers that provides fast, cost-effective cellular updates with complete sign manageability.
Smart Inventory Management for Craft Beer Retailers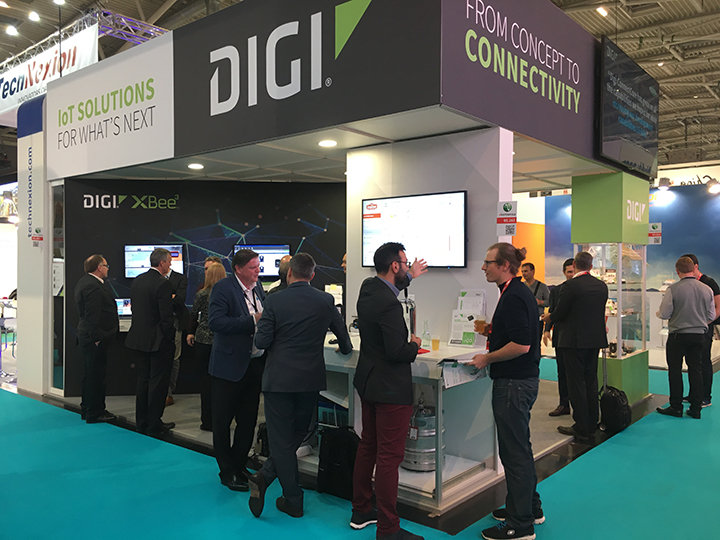 If you visited our booth at Electronica 2018, then you had the opportunity to see this innovative solution in action. SteadyServ Technologies developed an IoT solution for the traditionally low-tech market of beer service. They found that bar managers were frustrated with the challenge of maintaining appropriate inventory levels.
Until SteadyServ developed iKeg, the only way to determine the volume of a beer keg was to move it or lift it. Additionally, beer inventory methods were 100% manual and analog.
The iKeg solution changes all that with an application for assessing keg volumes. The beer keg sits on top of a sensor which determines keg volume by weight, and that data is communicated via a gateway, such as the Digi XBee Industrial Gateway. It also determines how quickly the weight is changing, which then indicates how quickly patrons are consuming any given beer. On a busy Friday night, this can be especially helpful so both patrons and bar staff can determine the popularity of all brews on tap. And the iKeg app helps bar management to track sales and inventory.
You can read the full story here: The Beer Industry Gets Crafty with the Internet of Things.
Smartphone Charging Solution for Retail Outlets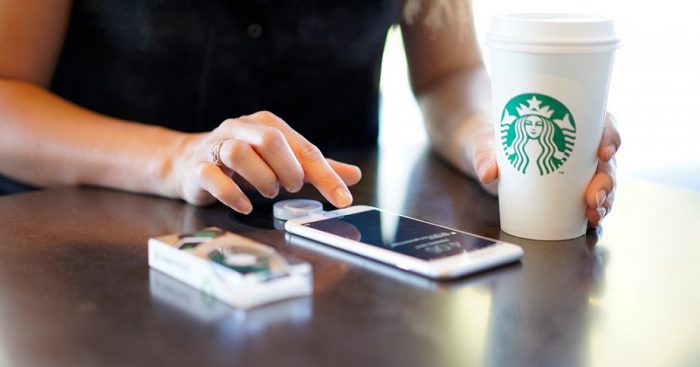 Whether traveling or at home, most of us can't part with our mobile devices. And the ability to charge anywhere is important enough that many people carry their charging cords everywhere, which can put a demand on available outlets.
The Powermat company made use of a custom Digi gateway in an application that enables users to charge their phones from Starbucks and other retail locations. The Powermat wireless charging stations are embedded in tabletops and connected on site with Zigbee mesh technology. A Digi XBee Gateway connects Powermat securely to its cloud-based system, and also enables data integration to capture information such as the locations of the "charging spot" stations.
You can read the full story here: Starbucks and Other Retail Outlets Offer Wireless Phone Charging with Digi Technology.
Smart Point-of-Sale Lottery Solutions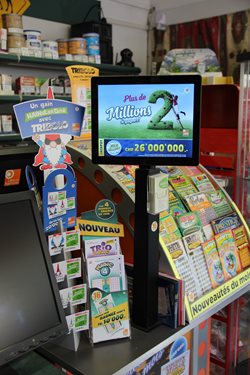 When the Swiss Lottery, Société de la Loterie de la Suisse Romande (LoRo), set out to provide Point-of-Sale (POS) terminals throughout six French-speaking regions of Switzerland, they needed a way to rapidly set up shops with their wireless solution, and ensure reliable, secure connectivity.
They wanted to move from a fixed line connection to wireless broadband to facilitate lottery and gaming applications using up-to-date networking technology.
LoRo turned to Digi TransPort® WR21 Cellular Routers, which utilize LTE technology and can be managed and monitored remotely with security patches and firmware updates.
The WR21 routers were pre-configured with LoRo's specifications, and in just a few weeks the company was able to prepare a deployment of more than 1,000 WR21 units to lottery game locations across the region. LoRo is now able to roll out and update new points of sale instantaneously.
You can read the full story here: Digi TransPort Connects Thousands of Point of Sale Terminals Across Switzerland.
How Retailers Can Enhance Operations and Customer Satisfaction with IoT Technology
Ensuring transactions are managed reliably, and that customers are satisfied with their experience, are two important goals of every retail establishment. IoT technology can support these goals in multiple ways, from supplying robust wireless connections for transactions and other applications such as customer Wi-Fi to providing router support with features such as dual Wi-Fi so if one connection fails, a second connection kicks in automatically. See the full range of IoT resources for retail businesses at www.digi.com/retail.
>>> Contact Digi to connect with a Digi IoT expert anytime for help with IoT products, solutions and design services.